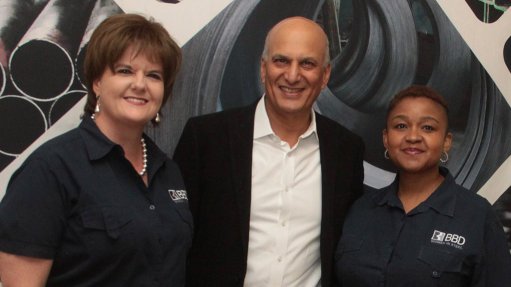 MONIKA PRETORIUS, ARUN CHADHA AND GWEN MAHUMA Allied Steelrode and BBD Steel Suppliers have formed a lucrative partnership
Despite the constrained local economy, steel supplier and processor Allied Steelrode and fully women-owned industry newcomer BBD Steel Suppliers have found growth potential in a progressive partnership.
"The state of the steel industry in South Africa is challenging . . . There is a lot of political uncertainty, which, in turn, affects the flow of foreign direct investment into large infrastructure projects," says Allied Steelrode CEO Arun Chadha.
Allied Steelrode and BBD Steel state that the partnership was formed out of a synergy based on common values and business ethos, and their mutual intention to service the automotive sector. Allied Steelrode required a distribution branch in northern Tshwane, while BBD Steel required an industry-wise supplier.
"We were contemplating establishing a branch in Pretoria north to service the automotive heartland of Rosslyn and other industry sectors in this area at the time," explains Chadha.
Allied Steelrode decided to support BBD Steel by becoming its supplier of choice. Chadha emphasises that the growth potential for smaller steel distribution companies, such as BBD Steel, is buoyant in the Pretoria area, as there are no major steel distribution outlets in the area.
Further, Allied Steelrode recognises that BBD Steel, as a broad-based black economic empowerment Level 2 contributor, has significant access to the manufacturing and industrial parastatals in the Tshwane region. BBD Steel was, as a result, a distribution partner of choice for Allied Steelrode.
In addition to the industry guidance that Allied Steelrode provides, it also supplies BBD Steel with steel stock at competitive prices and has made BBD Steel the exclusive distributor of its Allied Steelrode Stretcher Material (ASSM) stretcher-levelled steel in the Tshwane region.
BBD Steel believes that, if it had not been given the opportunity to buy stock from Allied Steelrode at competitive prices, thus allowing BBD Steel to carry the correct levels of stock, the company "would have stayed very small, actually, insignificantly small", in the steel distribution industry, says BBD Steel co-director Monika Pretorius.
Allied Steelrode states that ASSM stretcher-levelled steel is unique in that it takes latent stresses or unevenness out of the flat steel products, subsequently ensuring that the steel remains flat throughout the processing and fabrication process. This increases the capacity of the products by reducing the risk of fibre laser cutting equipment breaking and by increasing a product's yield capabilities.
ASSM products have proven to be highly successful, which has prompted Allied Steelrode to install a second new stretcher leveller which is scheduled to be in operation by May.
The new stretcher leveller promises to be more powerful than the first, and can stretch heavier gauge steel up to 900 MPa, says Chadha, adding that the new machine will be well suited to serving the needs of the local automotive sector.
"BBD Steel has turned out to be a very successful distributor of ASSM to the automotive heartland of Rosslyn and the surrounding regions. The partnership is going extremely well and we are confident that it will continue . . ." he highlights.
Both companies reveal that their partnership has encouraged growth within their respective companies. BBD Steel has managed to double its yearly turnover since its establishment in 2014. Despite industry hardship, Pretorius says the company has managed to grow significantly from being an initial three-person start-up to currently employing 48 people in a 75% black women- owned business, working from BBD Steel's own well-equipped and, with Allied Steelrode's assistance, well-stocked 4 000 m2 facility.