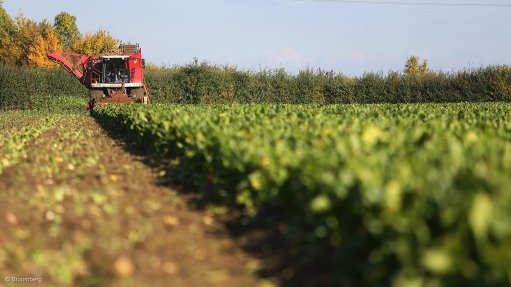 RICH PICKINGS Sustainable farming aims to build farm productivity and profitability in a way that minimises any adverse impacts on the environment
Photo by: Bloomberg
The World Wide Fund for Nature South Africa (WWF) Sustainable Agriculture Programme maintains the importance of healthy, functioning ecosystems in South Africa's farmlands, including in the production of wine and associated fruit.
The programme, which sustainable banking-focused financial services provider Nedbank started supporting in 2012, highlights the importance of food security and growing food in a manner that protects natural resources.
The Sustainable Agriculture Programme is managed by nature conservation organisation WWF. It focuses on areas that are of joint interest to WWF and Nedbank Agribusiness, including the production of wine and fruit, sugarcane, dairy products and grass-fed free-range beef.
Farmers and Biodiversity Protection
Eighty per cent of South Africa's critically endangered species and ecosystems are situated on productive agricultural land outside of national parks.
In addition, the country's current protected areas are often too small and isolated to maintain the ecological and evolutionary processes that sustain species and ecosystems.
Landowner stewardship programmes, such as the WWF Biodiversity and Wine Initiative and the WWF Enkangala Grasslands Programme, and provincial stewardship programmes, such as the CapeNature Stewardship Programme and the KZN Ezemvelo Wildlife Stewardship Programme, engage farmers in the corridors to use their natural resources sustainably and protect the critical biodiversity on their land.
Sustainable and Organic Farming
Sustainable farming aims to build farm productivity and profitability in a way that minimises any adverse impacts on the environment while protecting natural biodiversity and ecosystems, and securing social wellbeing.
However, the basic principle of organic agriculture is to manage farm productivity using purely natural agricultural resources rather than using synthetic fertilisers, pesticides and herbicides.
Either approach might incorporate the concept of agrobiodiversity – aspiring to mimic nature by having biodiverse systems of mixed cropping and livestock.
Further, the basic principles of organic farming are considered sustainable and are embraced by the sustainable farming concept. Sustainable farming extends to addressing the social and economic aspects of farming, including farm and land-use planning, resource use and allocation, overall efficiency, effective management of surrounding natural areas, conservation of biodiversity and underpinning ecosystems on farms.
Sustainable agriculture speaks to the entire farming footprint and impact, and focuses on promoting minimum compliance, continual improvement to reduce the overall environmental impact of farming practices and minimising the agricultural footprint, using natural resources. It works across conventional, organic and biodynamic farming practices.