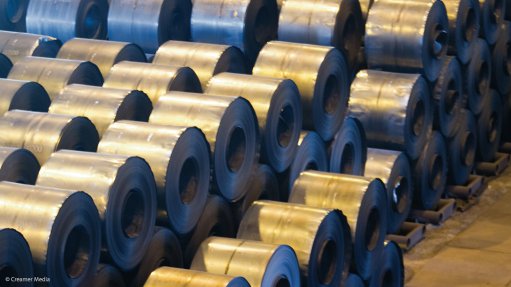 Photo by: Duane Daws
The first applications for protection on several steel products were approved on Friday, with Trade and Industry Minister Dr Rob Davies confirming that duties across eight tariff subheadings would be increased to the World Trade Organisation bound rate of 10%.
However, government insisted that there could be no price increases for the steel products in question and also placed conditions on job cuts and future investments at beneficiary companies.
The increase in protection was approved following an investigation by the International Trade Administration Commission of South Africa (Itac), which recommended that the duties on zinc-coated, or galvanised steel, aluminium-zinc coated steel and colour-coated steel be increased from free of duty to 10% ad valorem.
The investigation was initiated in 2014 following an application from the South African Coil Coaters Association on behalf of ArcelorMittal South Africa (AMSA) and Safal Steel and formed part of the first wave of applications.
Several other applications have since been submitted covering a range of flat- and long-steel products and, following a recent meeting between government business and labour, it was agreed that all these applications would be considered "on an expedited basis".
Industry participants, including AMSA, Highveld Steel & Vanadium and Scaw Metals, had also indicated that the initial applications for 10% protection could be followed up by anti-dumping applications, which would target "unfair" imports from specific countries.
The domestic industry was particularly concerned about the rise in imports from China, where there is said to be a glut of "subsidised" steel seeking new markets, owing to a decline in Chinese demand.
Besides the stipulation that domestic prices should not increase as a result of the newly instituted duties, Davies said support for protection would also be subject to the following conditions:
A further Itac review, within three years, into the duty structure, where the impact on the industry value chain would be determined.
A R250-million investment by AMSA into its colour line and a R300-million Safal investment into its metal-coating line in 2017.
A commitment by both companies not to cut jobs on these production lines over the coming three years.
The establishment by Itac of a committee comprising the applicants, downstream users, the departments of Trade and Industry and Economic Development and relevant experts to monitor the impact of the change in tariffs and steel prices on downstream users as well as the performance of the applicants against the commitments agreed upon.
And an immediate Itac review of the tariff dispensation in the event of default.
Work was also continuing on a pricing model that ensured both the short- and the long-term viability of the sector.
AMSA had tabled a pricing model before government, which it indicated it was prepared to implement in return for tariff protection and a government stipulation that locally manufactured steel be designated for use in public infrastructure projects.
CEO Paul O'Flaherty had indicated that the model under discussion was premised on an "efficient" cost of production, plus a reasonable, but capped, margin.
The Steel and Engineering Industries Federation of Southern Africa (Seifsa) welcomed the decision to impose a 10% tariff on cheap, imported steel.
Seifsa chief economist Henk Langenhoven said that, while the country's long-term priority was to grow the economy by ensuring it was more competitive internationally, the imposition of import tariffs would give local manufacturers a chance to enhance their ability to compete and to save jobs.
In light of the current distressed state of the industry, protection was a "choice between losing the entire sector, as we have seen happening in Australia, or trying to 'ride the short-term storm' and adjust for the future".