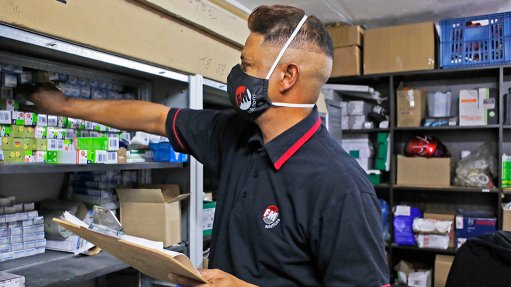 A THOROUGH JOB Creating a preventive maintenance plan at regular intervals, especially during the Covid-19 pandemic, is of great importance
As a result of the Covid-19 pandemic, facilities management service provider Facilities Management (FM) Solutions points out that companies need to create a preventive maintenance plan for the upkeep of commercial spaces at regular intervals.
"While self-performed maintenance protocols have not changed, protocols regarding health, hygiene and the handling of tools and equipment have. Screening, recording staff member temperatures and constant sanitising of tools and equipment have become a part of our maintenance protocols. We implemented a Covid-19 preventive plan to be in place for all our subcontractors, which considered the above as well as client and site-specific requirements," says FM Solutions director Zaahir Forbes.
He states that preventive and reactive maintenance during the higher levels of lockdown declined and that clients mainly focused predominantly on statutory and legislative maintenance requirements during these periods.
"During the higher levels of lockdown, non-critical maintenance was rescheduled to reduce the overall Covid-19 exposure risk to our staff as well as client staff. The items in need of repair were still visually inspected to ensure that no further degradation took place and to plan the physical repairs as lockdown levels decreased. We worked closely with clients to decide on maintenance tasks that were considered critical to occupational health, safety and environment, client core business infrastructure compliance. Along with our clients we identified certain concessions that could be made with regard to Covid-19," explains Forbes.
While maintenance operations decreased during lockdown, owing to offices and buildings being shut down, as well as restricted access, with fewer employees on site, FM Solutions remained focused on its service offering.
"We focused on executing maintenance in general areas of our client spaces. This served our clients well, as we avoided an influx of urgent maintenance and repair requests when the lockdown regulations were eased. We also increased our communication with our clients. We made them aware of the availability of spares and materials that were affected during the lockdown."
Forbes notes that, prior to Covid-19, FM Solutions maintenance staff had the freedom to move around at sites while carrying out all preventive maintenance and reactive maintenance.
However, with the additional health and safety protocols that have been implemented to curb the spread of the virus, some permanent changes are being implemented to accommodate the 'new normal', he adds.
"Many staff members of FM Solutions and clients are more aware of hygiene and safety requirements; this global pandemic has also encouraged alternative ways of thinking and of carrying out different tasks," says Forbes.
He concludes that FM Solutions operated during the various levels of lockdown to attend to any emergency maintenance requirements.