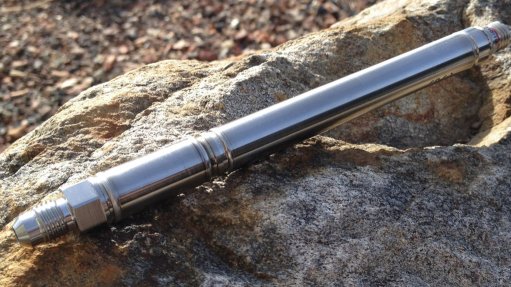 PAINE 328-12-0010 It measures pressure and temperature with full-scale accuracy of about 0.05% and is able to withstand operating temperatures from -40 °C to 175 °C
Last month, US-based Emerson Automation Solutions introduced the Paine 328-12-0010 pressure and temperature data logger and digital transmitter for process measurement and data logging in downhole drilling applications.
The company notes that downhole drilling operators need to measure pressure and temperature to optimise drilling processes and ensure safety. These measurements are typically made with a variety of downhole tools, either mounted just above the drill bit to provide continuous measurement while drilling, or as separate tools inserted into the drill hole on a periodic basis. Once drilling is complete and production begins, these measurements are needed to optimise throughput, maximise uptime and ensure safety.
Emerson points out that, with all of these applications, space is at a premium and high reliability is required. "The environment is extremely harsh, with high temperatures and pressures, corrosive drilling fluids and high vibration."
Thus, rugged components with small form factors are required to support smaller tool sizes, along with increased pressures and temperatures as holes become deeper.
To address these issues, the Paine 328-12-0010 data logger/transmitter provides both temperature and pressure measurements in a compact and durable piece of equipment. The transmitter measures pressure and temperature with full-scale accuracy of about 0.05% and is able to withstand operating temperatures of –40 ºC to 175 ºC. Its slim diameter of about 130 mm saves on critical downhole tool space.
Measured data can be transmitted through the built-in RS-485 digital data link. Using onboard memory, the device also provides data logging functionality, allowing it to automatically store large amounts of data for future analysis.
In its efforts to extend its presence in advanced flow measurement and control technologies,
the company acquired the Blending & Transfer Systems business of oil service equipment supplier FMC Technologies, a leading provider of systems for lubricant, grease, fuel and chemical blending applications within the refining and chemicals industries.
Following the November 2016 acquisition, Emerson integrated the flow solutions segment into the company's existing business structure, with the segment complementing Emerson's industry-leading brands such as Micro Motion and DeltaV.
The combination creates a strong product and software portfolio to solve customers' most critical blending applications in refining and chemicals end markets.
At the time, Emerson flow solutions group president Ram Krishnan commented: "As our customers comply with increasingly demanding environmental regulations and [use] varying crude stocks to maximise profitability, comprehensive blending systems play a vital role in the effectiveness of their operations."
Emerson automation solutions executive president Mike Train added that the blending systems expertise and application-specific control modules brought in through the acquisition, and combined with Emerson's range of instruments, valves and control systems, enabled the company to provide customers with increased system uniformity, lower cost and improved compatibility. "All of [this will] drive improved operating performance."
Train also noted that the acquisition followed the company's strategy to invest in assets and technologies that expand Emerson's offerings to solve its customers' most critical issues, while ensuring that the company was best positioned for long-term growth.
Another example of Emerson's growth strategy is its partnership with ultrasonic flow measurement product supplier FLEXIM, which is aimed at helping process customers optimise their flow process design, flow meter selection and flow meter installation on capital projects to reduce execution risk and costs. The two companies entered into the partnership in October last year.
The company had noted that customers were under severe pressure to reduce schedule and cost targets on capital projects. Through this partnership, Emerson's project teams – using FLEXIM's clamp-on, ultrasonic flow metering portfolio, in combination with Emerson's flow meter offering – are able to consult early and throughout the project cycle to reduce engineering, piping and installation costs, as well as schedule risk.
In its October press release, Emerson stated that FLEXIM's nonintrusive flow metering offering "is the leader in the clamp-on, ultrasonic marketplace and provides the best reliability and the most advanced capability when addressing difficult applications with a nonintrusive flow solution".
This ongoing cooperation is expected to improve delivery of exact flow solutions desired by clients, while supporting Emerson's Project Certainty – a transformational approach to enabling top-quartile performance in capital projects.