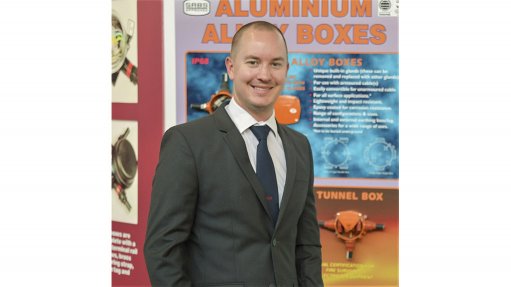 ANDREW PRATLEY The company's focus will be on research and development and exploring new markets
Industrial products and adhesives manufacturer Pratley has realised sustained demand for its products during difficult economic times and is exploring growing its exports, says Pratley manager Andrew Pratley.
"We have our eyes set on expanding our export markets even further, specifically in Africa. This will include all ranges of electrical and adhesives products. We see growth potential in Africa, where a lot of equipment is repaired on site. Many of our products are geared to serve this need."
Its range of junction boxes, cable glands and terminals is produced to conventional industrial and hazardous-environment specifications, such as environments where flammable gases or dust may be present during normal or abnormal conditions.
For example, Pratley's Kwikblok electrical terminals are made from durable polyamide materials and incorporate spring-loaded, grip-lock contacts to prevent arcing and sparking. The company believes that the terminals, as well as mounting rails and end clamps, are well suited to meet industrial and mining requirements.
"We export to the European Union, the Middle East, Australia and to North and South America. We are also exploring expanding our exports into the US market – we believe that we have adhesives and do-it-yourself products that are suitable for that market."
Mineral Products
The company also reports good demand for its mineral products, specifically perlite and zeolite.
The perlite products are used in the agriculture industry as an aggregate and in the construction industry to make lightweight concrete and plaster that is both fireproof and thermally insulating. Perlite-based, lightweight concretes are also preferred products in high-rise buildings.
"Pratliperl can be an effective thermal insulation [when used] as plaster applied to walls or sheet metal. A 16-mm-thick plaster on the inside and outside of the wall will double its thermal insulation. It has been used in low-cost housing projects in the Western Cape, where it was used on the inside wall to prevent condensation forming in winter. The product can also be used as a lightweight, insulating screed," he says.
The company's minerals division has realised good growth over the past few years, even in the depressed construction industry, where projects typically specify the use of insulating, energy-efficient and environmentally sustainable products, according to the company.
Similarly, Pratley's zeolite mineral, which acts as a cation-exchange material, is used to treat water by absorbing ammonium and other harmful cations. It has other pollution clean-up applications and the Gunge Spunge product is used for cleaning up hydrocarbon and other liquid spills, such as oils, blood and sewage.
"Gunge Spunge has a rough, porous surface structure. The product is used in a similar manner as ordinary spill clean-up aggregates and can readily be adopted for hydrocarbon spills, medical spills and abattoir uses, but is much more effective than commonly used spill aggregates. It is also nonflammable, which is in accordance with many municipal by-laws regarding spill clean-up products."
The company will continue to focus on developing and releasing at least two to three new products a year, which is made possible through continuous research and development. Pratley's focus over the short to medium term will remain on research and development, and exploring new markets for its products.