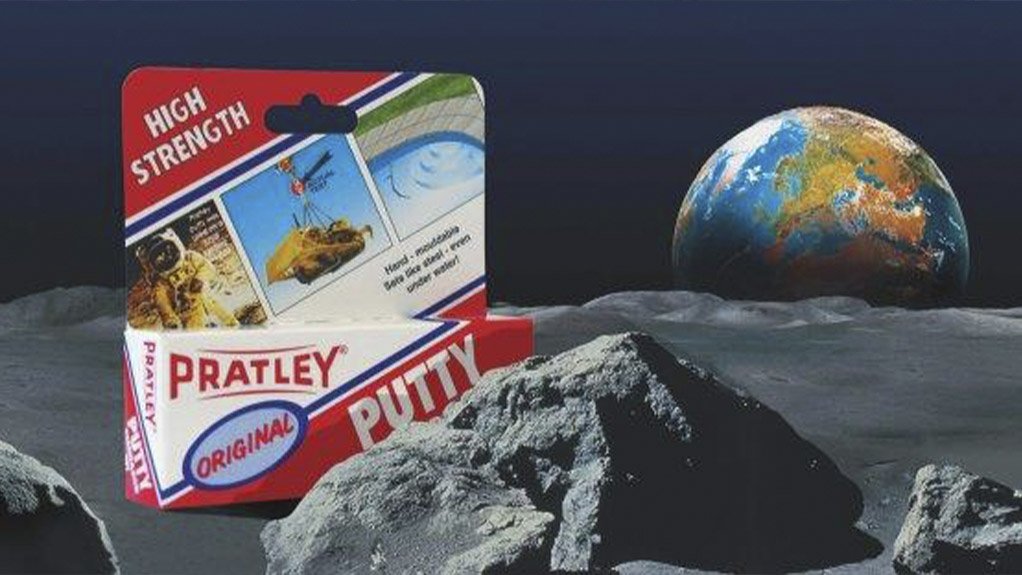 When compiling a list of South African inventions that have made an impact on a global scale, Pratley Putty will always feature among the top performers. Pratley Putty hasn't just made its way around the world, this strong adhesive putty has even travelled to the moon. The latest accolade for the ubiquitous Pratley Putty is being featured in the book 'Uitvinders, Planmakers En Ander Slimkoppe Van Suid-Afrika' by local author Engela Duvenage.
"Pratley Putty is a product that continues to perform very well. It has been proven in a lot of different applications. Although it was launched many years ago, it is a unique and trusted product, and one that continues to go from strength to strength," comments Pratley Chief Executive Officer Andrew Pratley.
During the 1960s, Pratley founder George Montague (Monty) Pratley and his laboratory invented the world's first epoxy putty. Initially, it was intended to be used internally for insulating and affixing terminals to cast iron electrical junction boxes. However, the product was subsequently introduced into the local market as Pratley Plastic Putty, a name that ultimately became Pratley Putty.
An agreement to manufacture the product under licence to a company in the United States was concluded, which introduced the product to the American Space Agency even before it could enter production in the USA. When the space agency decided to use the product aboard its Ranger space craft, the product was supplied from South Africa via the American distributor. Hence it became the only South African Product to go to the moon.
Pratley Putty was also featured at a 'Destination Moon' exhibition at the Sci-Bono Discovery Centre in the historic Electric Workshop in the cultural precinct of Newtown, Johannesburg in celebration of the 50th anniversary of the Apollo 11 moon landing on 20 July 2019. In honour of this occasion, the South African Mint also featured Pratley Putty in its 'South African inventions' series of silver commemorative collectible coins that recognise some notable South African inventions.
Pratley produces over 800 products across its adhesives, electrical and minerals divisions, in addition to over 350 patents filed to date. Pratley actively exports to international markets as diverse as the UK, the US, Australia, New Zealand, Europe, Middle East and the Far East. A growing export market for Pratley Putty in particular is Africa, due to the popularity of Pratley's products for quick DIY automotive repair work.
Its diversification strategy has stood Pratley in good stead in building up each division by cross-pollinating its research and development (R&D) efforts over the 73 years that the company has been in existence. "If one industrial sector is down, we have other divisions in the company that are usually doing well. Especially during this time of Covid-19 and the ensuing economic downturn and market volatility, our strategy of diversification over the years pays off," highlights Pratley Chief Operations Officer Charles Pratley.
Another key factor to Pratley's ongoing success is that it has always remained a 100% family-owned and managed business. "That has helped us tremendously in terms of our diversification because it affords us the freedom to bring new and innovative products to the market very quickly. We are able to make decisions relatively quickly and bring new products to market in less time," adds Andrew.
Pratley is even diversified in terms of its manufacturing methods and knowhow, especially as it carries out the vast majority of its own production, from plating electrical cable glands to in-house powder coating, adhesives mixing, and even perlite processing. "Most companies would outsource such specialised technical requirements, but we see it as a prime asset and key differentiator in the market for us. We have a policy of maintaining 95% service levels, and we don't have to rely on any supplier that could be late with delivery," notes Charles. "We are quite fortunate in having such a depth of manufacturing expertise and the technology underpinning us."
As far as the longevity of Pratley Putty is concerned, Andrew highlights that Pratley has a very loyal customer base established over many decades. "In many ways, our customers educate us as the manufacturer in terms of new and innovative applications for not only Pratley Putty, but for many of our adhesive products," stresses Andrew.
"Obviously, on the export side, when penetrating a new market, the key is educating that market. The versatility of our product range is also of great assistance. The objective is to get the user to use a product once, and when seeing inevitable success, they will keep using it and will go on to try other Pratley products."
Both Andrew and Charles have seen some interesting applications over the years for Pratley Putty, from repairing tortoise shells to affixing transmitters to pangolins for tracking purposes, and also for plugging holes in rhino horns as a technique to combat rhino poaching.
As for the future, Andrew reveals that a lot of products that have been in the R&D pipeline for three to four years have now come to fruition, from mineral to world-first electrical products specifically for applications in hazardous areas. The latter includes Pratley's new Flameproof Double Compression Cable Gland that adheres to all relevant international standards and requirements.
On its minerals side, Pratley recently commissioned Africa's most advanced perlite filter aid plant. Its Percolite® Filter Aid is ideally suited for the filtration of liquids in the food, beverage and chemical industries.
Pratley has also redesigned its main website, as well as the separate websites for its adhesives, electrical and minerals divisions. "We have made some major improvements in terms of adding additional content, sophisticated search functionality and improving ease of use," concludes Andrew.