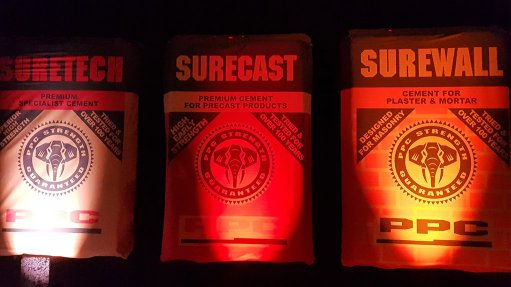 After what had been a difficult start to the financial year, JSE-listed cement manufacturer PPC managed to turn a profit of R610-million for the six months ended September 30, which was a 77% improvement year-on-year.
The company posted a restated profit of R344-million for the six months ended September 30, 2019.
Group earnings before interest, taxes, depreciation and amortisation (Ebitda) increased by 15% to R996-million, compared with Ebitda of R868-million in the prior comparable six months.
Improved cash generation of R981-million in the six months under review enabled the company to decrease its gross debt by R582-million.
The company's group net debt was R4.5-billion and its cash and cash equivalents R705-million as at September 30.
After taking into account a loss of R366-million, owing to fair value adjustments and hyperinflation, earnings and headline earnings attributable to shareholders of PPC declined by 37% year-on-year to R287-million.
The company reported earnings a share of 19c.
Outgoing PPC CFO Ronel van Dijk says the company's actions to improve cost competitiveness and reposition PPC on a sound financial footing were yielding encouraging results and the company will look to build on these efforts going forward.
Van Dijk has decided to step down as group CFO, effective March 31, 2021. She will be succeeded by Brenda Berlin, joining the company from February 15 next year to ensure a smooth transition.
Berlin has served on the executive management teams of Impala Platinum Holdings and MC Mining, where she has most recently served as acting CEO.
PPC experienced muted cement sales in April and May this year, as a result of Covid-19-related trading restrictions in South Africa.
However, cement sales have since rebounded with double-digit year-on-year growth since June. The increase in volumes is primarily retail led. PPC is also beginning to experience the positive impact of increased infrastructure spending.
The company had reduced its capital expenditure by R125-million in South Africa, and achieved an immediate cost reduction of R150-million in the period under review, benefitting the interim financials.
During the six months under review, PPC South Africa and Botswana cement volumes declined by 5% to 10%, with declines in the coastal regions offsetting growth in the inland areas. The first quarter's cement sales declined by more than 35%, followed by a strong rebound of 20% to 25% in the second quarter.
The sales momentum has continued into October and November.
PPC estimates that the South African cement industry sales volumes were in line with the prior year despite the Covid-19-related sales restrictions.
A shortage of extenders has impacted on blender activity, and this has benefitted integrated cement producers such as PPC.
The availability of nonconforming cement in the market remains a concern for the industry over the medium term.
PPC further explains that cement imports remain a threat to the sustainability of the South African cement industry. Although imports of cement and clinker decreased by about 6% to 621 609 t in the current reporting period owing to the lockdown restrictions, this is likely to change as the global economy reopens.
PPC, in conjunction with The Concrete Institute and other industry players, have applied to the relevant authorities for relief against unfair competition.
PPC has received a verification report confirming receipt of all required information for the application process and is now awaiting the initiation of an investigation by the regulator.
MATERIALS BUSINESS
The company's aggregates, readymix and ash revenue decreased by 20% year-on-year to R514-million in the six months under review, primarily as a result of reduced volumes in the aggregates division.
Demand for aggregates is beginning to benefit from increased infrastructure spend with double-digit year-on-year volume growth in September. The decline in volumes resulted in a R6-million loss before interest, taxes, depreciation and amortisation, compared with Ebitda of R35-million in the prior comparable period.
The lime division's revenue declined by 36% year-on-year to R279-million, with volumes and pricing under pressure owing to the decline in steel-related activity.
PPC says the shutdown of operations by a major customer further reduced demand for lime products.
A number of initiatives have been implemented to improve the performance of this business.
Ebitda for the lime division contracted by 56% year-on-year to R22-million, mainly owing to a similar decline in volumes. With the reported shortage of locally manufactured steel, PPC expects demand to recover in the latter part of the financial year.
INTERNATIONAL
PPC says that although trading conditions in Zimbabwe were characterised by a challenging economic environment and the impact of Covid-19-related lockdown restrictions, domestic cement volumes grew by 5% to 10%, supported by ongoing infrastructure projects.
PPC Zimbabwe's cement sales grew in the similar range, supported by an increase in volumes of 35% to 40% in the second quarter. The positive sales momentum has continued into October and November, albeit at a normalised rate.
Revenue increased by 60% year-on-year to R797-million in this country during the six months under review – pricing was adjusted to account for the increase in inflation and the devaluation of the local currency.
Realised selling prices in dollars increased by 23%. Ebitda for PPC's Zimbabwean operation improved by 62% year-on-year to R326-million.
PPC Zimbabwe continues to meet its debt obligations in-country while remaining financially self-sufficient, and recently declared a dividend to its shareholders of $6.6-million, of which PPC is entitled to $4.7-million pre-tax.
In Rwanda, Cimerwa continues to benefit from robust cement demand, driven by large infrastructure projects, growth in the retail market and export demand from the eastern Democratic Republic of Congo (DRC).
Like the other jurisdictions in which PPC operates, cement sales were affected by Covid-19-related restrictions imposed by the authorities.
Cimerwa's cement sales in the first quarter were broadly in line with the prior year, with a strong recovery in the second quarter. For the six months ended September 30, Cimerwa achieved revenue growth of 28% year-on-year to R659-million, supported by a 10% increase in volumes, stable pricing in US dollas and translation gains.
Ebitda from the Rwandan operations increased by 35% year-on-year to R211-million, on the back of higher revenues and stringent cost control.
Moreover, PPC Barnet, in the DRC, achieved revenue growth of 33% year-on-year to R402-million, driven by volume growth of 8%, higher pricing in US dollars and translation gains. Ebitda from PPC Barnet improved by 64% year-on-year to R133-million.
PPC notes that Ebitda benefitted in this country from stringent cost control, entrenchment of its route to market strategies, as well as the positive Ebitda impact of clinker and cement inventory movements in the period.
The company continues to make good progress on its restructuring and refinancing project, while it has also decided to accelerate the sale of PPC Lime and appointed financial advisers to manage a structured sales process of the business.
PPC is targeting deal certainty by the end of the first quarter next year.
Although the group is experiencing positive sales momentum across most of its markets, PPC remains cautious on the outlook for the rest of the 2021 financial year given the ongoing health crisis and its resultant impact on economic activity.
PPC will remain focused on cash preservation and improving its cost competitiveness by lowering operational costs.