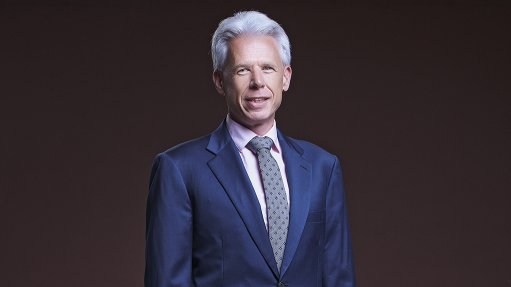 PPC CEO Roland van Wijnen
Cementitious products manufacturer PPC is considering several initiatives aimed at lowering the carbon footprint of its operations and products as its far-reaching organisational and financial restructuring begins yielding results and creates space for the JSE-listed group to start focusing on its longer-term sustainability.
CEO Roland van Wijnen tells Engineering News that several initiatives are being studied to help lower emissions at its manufacturing facilities, as well as to introduce lower-carbon products into the Southern African market.
"For us it is very clear that we need to reduce the carbon footprint of our cement products, so we are working on a roadmap where we are coming up with very specific projects," he explains.
This work is being guided by the framework provided by the Task Force on Climate-related Financial Disclosures.
Studies are well under way for the introduction of a low-clinker product in both South Africa and Zimbabwe, while early-stage assessments are being made of the feasibility of using green hydrogen in cement production.
In addition, the company is mulling over replacing coal with waste at it plants, using gas rather than diesel in its yellow equipment and contracting with independent power producers (IPPs) to supply renewable electricity to its manufacturing facilities; the most advanced prospect being a solar offtake agreement for its plant in the North West province.
"We have ongoing feasibilities at all our South African plants and also at the plant in Zimbabwe where we are looking to be an offtaker of solar electricity produced by IPPs."
The group also has sites available in both the Western and Eastern Cape provinces that have been earmarked as being high potential for wind energy production.
Van Wijnen is optimistic that government's recent decision to raise the licence-exemption cap on distributed generation plants from 1 MW to 100 MW will be positive for improving security of supply and reducing PPC's reliance on fossil-based electricity.
The group is also working with Eskom, however, to increase its use of fly ash, a waste byproduct produced from coal-fired electricity generation.
As part of the so-called just energy transition, the State-owned power producer is keen for this material to be turned to account in a way that creates new jobs.
PPC already has a fly-ash company that prepares product for use internally and for sale to the third-party market and it is keen to do more, albeit with the understanding that the cement industry alone cannot solve the entire fly-ash problem.
"So, there are quite a number of these environmental initiatives that are starting to become closer to reality and it's definitely a focus area of ours," Van Wijnen states.
RIGHTS ISSUE?
The immediate focus, however, remains the completion of the restructuring effort, and the implementation of sale agreements concluded for noncore businesses, PPC Lime and Botswana Aggregates.
The disposals, once finalised, are expected to realise R500-million and could help PPC avoid a possible R750-million rights issue – the final decision has been deferred to September.
Van Wijnen tells Engineering News that the rights issue remains a "last resort" and that he is cautiously optimistic that it can be avoided.
This will hinge on the noncore sales announced on April 1 being concluded, as well as PPC continuing to demonstrate good cash generation and a normalisation of its debt position.
Gross debt has already fallen to R2.6-billion, from R5.8-billion at the end of March 2020, with the R3.2-billion decline including R2.5-billion relating to it business in the Democratic Republic of Congo (DRC), where it reached a deal with PPC Barnet's lenders terminating their right to recourse to PPC.
"But we live in uncertain times, so if the lime divestment doesn't come through, or anything else pops up, we have to fall back on that rights issue, and that's why I can't say with certainty that we don't need it."
The group's financial performance for the year to March 31 improved, despite the loss of sales owing to the various Covid-19 lockdown restrictions.
Cement sales in South Africa benefited from a strong recovery in retail demand in the inland region, while Cimerwa, in Rwanda, also experienced strong cement sales owing to the roll-out of government projects, retail demand and exports to the DRC.
Trading conditions in Zimbabwe were characterised by high inflation and a shortage of foreign currency, but PPC Zimbabwe grew revenues and cash flow in functional currency. The unit's contribution to group profitability fell, though, owing to a 75% devaluation in the Zimbabwean dollar against the South African rand.
Overall, group revenue increased by 3% to R8.94-billion on the back of a recovery in cement sales, while group earnings before interest, taxes, depreciation and amortisation (Ebitda) increased by 16% to R1.6-billion, reflecting an Ebitda margin of 17.9%, up from 15.9% in the prior year.
Operating profit increased by 75% year-on-year from R600-million to R1.1-billion.
Headline earnings from continuing operations decreased, however, from R787-million to R77-million as a result of various fair-value and accounting adjustments, as well as the fact that a R251-million profit relating to a DRC put option was not repeated in 2021.
PPC is optimistic about the recovery in cement demand in most of its markets, but Van Wijnen said that the outlook was clouded by the Covid-19 pandemic, currently in a devastating third wave in South Africa.
There were also indications that retail demand, which rose sharply in the latter months of the 2020 calendar year, was beginning to find some support from South Africa's long-stalled infrastructure markets.