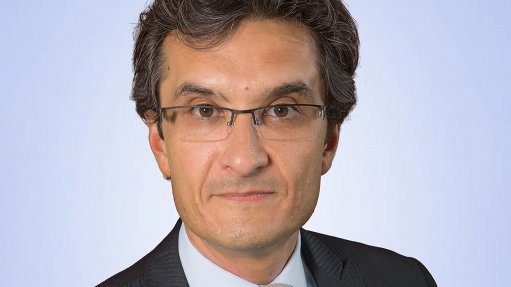 IMD World Competitiveness Center director Arturo Bris
South Africa slipped one position, from 52 to 53, in the latest world competitiveness ranking, which highlighted power and infrastructure shortfalls, high youth unemployment, as well as inadequate education and technical skills availability as key challenges to the country's competitive position.
However, the biggest year-on-year decline in the performance of the South Africa economy related to energy infrastructure, which recorded the largest percentage decline from the 2014 ranking.
The yearly ranking, which is compiled by the IMD World Competitiveness Center using a combination of hard and survey data covering the areas of economic performance, government and business efficiency and infrastructure, continued to rank the US as the world's most competitive economy of the 61 surveyed, with Venezuela remaining in last position. South Africa remained the only African country to be included in the ranking, which has been compiled under the aegis of Swiss business school IMD since 1989.
Hong Kong (2) and Singapore (3) overtook Switzerland, which dropped to fourth position, with Luxembourg rising from 11 to sixth to join Canada (5), Norway (7), Denmark (8), Sweden (9) and Germany (10) in the top ten. The United Arab Emirates dropped out of the top ten, moving from 8 in 2014 to 12 in the 2015 rankings.
South Africa's decline was in line with the performance of a number of other large emerging economies, with Brazil falling from 54 to 56, Thailand from 29 to 30 and Malaysia from 12 to 14, while Russia's ranking declined more sharply from 38 to 45. That said, China rose from 23 to 22, Mexico improved from 41 to 39 and Taiwan rose from 13 to 11, while India sustained its position at 44.
"This trend shows the difficulty in grouping emerging markets in one category, as the issues impacting their competitiveness differ. China's slight increase stems from improvements in education and public expenditure, whereas Brazil suffers from a drop in domestic economy and less optimistic executive opinions," the IMD World Competitiveness Center explained.
The modest fall in South Africa's ranking was unsurprising and came amid news of weak first quarter employment and growth statistics, with the official unemployment figure rising to a dismal 26.4% from 24.3% and the economy growing by only 1.3% in the first three months of the year.
The ranking was affected materially by a decline in the performance of the country's energy infrastructure, where South Africa ranked last (61) in the 2015 report. It also performed poorly in the areas of labour relations and workforce productivity (61); life expectancy and health (61); unemployment and social cohesion (60); Gini coefficient and skilled labour (60); pupil-teacher ratio and labour regulations (59) and youth unemployment and the current account balance (57).
By contrast South Africa ranked well in areas such as the cost-of-living index (1) and office rent (7); effective personal income-tax rate (2) and employer's social security contribution (3); total public expenditure on education (3) and secondary school enrolment (7); stock market capitalisation (3) and finance and banking regulation (9).
IMD World Competitiveness Center director Arturo Bris said that a general analysis of the 2015 ranking showed that top countries were "going back to the basics".
"Productivity and efficiency are in the driver's seat of the competitiveness wagon," he said, noting that nine countries from the top ten were also listed in the top 10 of the business-efficiency factor, which focused on the extent to which the national environment encouraged enterprises to perform in an innovative, profitable and responsible manner. It was assessed through indicators related to productivity such as the labour market, finance, management practices and the attitudes and values that characterize the business environment.
In this area, South Africa fell from 51 in 2014 to 52, having slipped from a ranking of 37 in 2012, with a deterioration in a number of the sub-factors including productivity and efficiency (58 to 60), labour market (55 to 58), finance (24 to 26), management practices (35 to 42) and attitudes and values (50 to 54).
"Simply put, business efficiency requires greater productivity and the competitiveness of countries is greatly linked to the ability of enterprises to remain profitable over time," Bris explained, adding that increasing productivity remained a fundamental challenge for all countries.