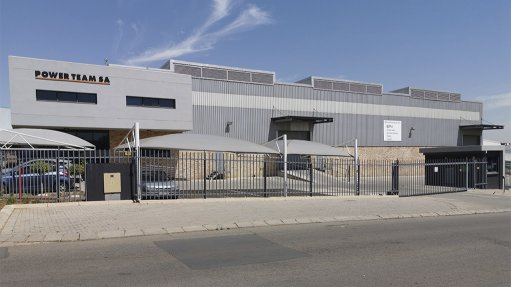 UNTAPPED POWER Power Team SA is the South African distributor and subsidiary of US-based SPXFLOW Hydraulic Technologies
Despite the instability in the mining sector, equipment and product sales are on the rise for hydraulic equipment and mechanical tools supplier Power Team South Africa (SA).
"Sales of hydraulics tools and products are increasing. Although the sales are not stable, which is a direct effect of the industry to which we supply, we can project an overall 15% increase, even in the years to come," says Power Team SA in-house sales supervisor Rowan Profitt.
Through the company's distributors, it not only supplies products to large mines in South Africa but also provides maintenance services for these mines.
"Power Team SA has a fully functional repair facility and paint booth at its premises in Meadowdale, Gauteng, which enables us to perform same-day repairs, reducing the waiting time for spare parts and components," he says.
This, coupled with specialised and experienced staff, enables the company to assist clients with their hydraulic requirements, Profitt adds.
Power Team SA is the South African distributor and subsidiary of US-based innovative technology manufacturer SPXFLOW Hydraulic Technologies.
Through its partnership with top hydraulic companies nationally and across Africa, the Power Team SA range of hydraulic cylinders and bolting equipment is distributed and serviced across Africa, he says.
The company's products range between 5 t and 1 220 t hydraulic cylinders in single- and double-acting variants to hydraulic hand pumps and power packs. The hydraulic hand pumps and power packs suit the above cylinders, including Power Team SA's new 18 V battery pump which boasts versatility and portability, ideal for the mining sector. It is also ideal for use in environments where electric power packs are not suitable for use owing to the hazardous environments underground.
"We also stock a range of hydraulic torque wrench equipment that ranges from 200 Nm up to a possible 72 000 Nm, and are also the sub-Saharan Africa distributor for Paoli Impact wrenches, building and machinery designer WTC track pin presses and Canada-based tyre handling equipment manufacturer Reliable Wheel Products tyre presses," he concludes.