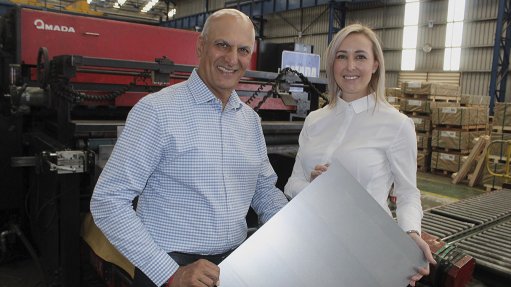 STEELY INVESTMENT Allied Steelrode CEO Arun Chadha and automotive sales GM Lee-Ann Geyser hope to meet customer expectations through investing in new equipment
In light of the positive industry outlook for major automotive manufacturers such as Nissan, steel distributor Allied Steelrode has invested in process technology to assist its predominantly automotive component sector clients.
Allied Steelrode's suite of steel beneficiation equipment ranges from high-speed cut-to-length and slitting lines, to fully automated high-precision and high-speed guillotines, which are able to supply a range of products and sizes to the automotive industry.
"Change is constant, and nowhere more so than in the automotive industry, with the need to meet customers' prevailing expectations concerning quality and reliability, excellent customer service and the shortest possible turnaround times," says Allied Steelrode automotive sales GM Lee-Ann Geyser.
For its part, Geyser explains that Allied Steelrode has continued to evolve its market offering to ensure that it is sufficiently versatile to meet customers' requirements.
The various steel processing technology investments made by Allied Steelrode were therefore in response to – among others – the requirements of the local automotive sector.
"Partnering with our customers by tailoring our offering to their requirements not only enhances our efficiencies, but our customers' efficiencies as well, ultimately creating a demand for smaller cut-to-size products. Part of our steel investment strategy roadmap was to acquire one of machine tool manufacturer Amada's fully automated guillotines, as well as the Samis disc press."
"The result thereof is that we can deliver a superior-quality product to our customers, which is easier and more consistent in terms of quality and reliability for fabricators and manufacturers to work with," she adds.
The success of the first stretcher leveller, installed in 2015, prompted the purchase of a second such machine, which was commissioned in 2018.
Geyser advises that, although the trademarked Allied Steelrode Stretcher Material brand is not yet supplied 'as is' into the automotive industry – as the material grade requirements are very specific in this industry – various steel products are processed at the company's Midvaal stretcher facility which are used downstream in the automotive manufacturing sector.
In terms of gauges of steel supplied to the automotive sector, Allied Steelrode's capabilities across all lines range between 0.3 mm and 1.2 cm, excluding plasma facilities which extend to 6.5 cm. Currently, the principal gauges supplied to the automotive industry are in the 0.7 mm to 9 cm range.
Allied Steelrode supplies the steel in both local and imported material, ranging from cold-rolled, electro-galvanised, hot dip galvanised, hot-rolled, hot-rolled pickled and oiled, dual phase, and various high-strength steel products.
The Amada high-speed guillotine is an automated line, which delivers to exact requirements and – importantly – eliminates double-handling and processing in the automotive component manufacturer's production cycle.
"By delivering a superior product to our customers, they, in turn, can deliver quality that matches their customers' requirements.
This promotes optimisation in manufacturing processes, reducing costs and increasing efficiencies. In other words, it allows our customers to work faster – and smarter," Geyser continues.
In addition, the Amada medium and heavy-duty slitters add further functionality to Allied Steelrode's products. Subsequently, many customers have changed from strip feed to progressive tooling to reduce scrap, thereby optimising their costs and increasing efficiencies.