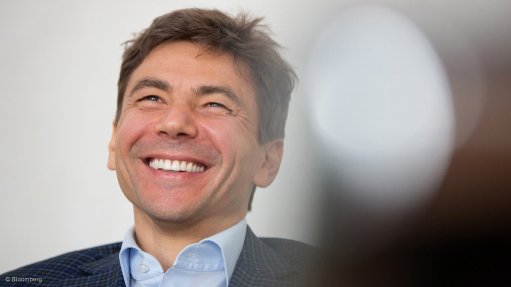 Polyus CEO Pavel Grachev
Russian gold miner Polyus has surpassed its production guidance for the sixth consecutive year, boosting production to 2.84-million ounces in 2019.
The production figure compares with output of 2.44-million ounces in 2018 and was 1.5% higher than the official guidance for the year of 2.8-million ounces.
The strong year-on-year growth was helped by the new Natalka mine, which contributed 405 000 oz in its first year of operations, following the ramp-up completion.
Estimated gold sales increased by 38% year-on-year to $3.97-billion, with an estimated weighted-average gold selling price of $1 403/oz achieved in 2019, compared with $1 265/oz in 2018.
CEO Pavel Grachev on Tuesday described Polyus' results as solid.
He also noted that the miner continued to examine new brownfield opportunities within its existing operations.
"We have recently approved further expansion of throughput capacity at Verninskoye mill to 3.5-million tonnes per annum. We expect that this initiative will add approximately 40 000 oz of incremental volumes in 2021. We are currently evaluating a number of other brownfield options and will provide the market with details on these later in 2020 once feasibility studies are complete"
At Sukhoi Log, one of the world's largest gold greenfield projects, progress is continuing on schedule. With the comprehensive exploration drilling programme being completed, and a prefeasibility study under way, Polyus expects to provide a maiden ore reserve estimate for Sukhoi Log this year.
Looking ahead to 2020, the miner remains committed to its production target of about 2.8-million ounces of gold.