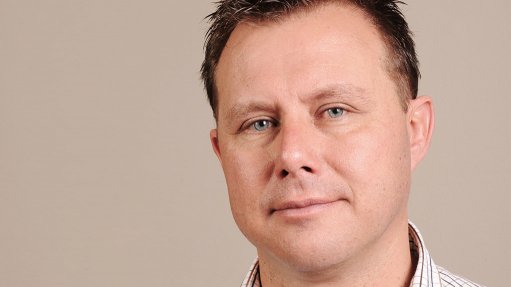 TREVOR CAROLIN When deciding between using polyurethane and rubber, the abrasiveness and nature of the application should be considered
Many contractors use rubber instead of polyurethane, owing to rubber being cheaper. However, polyurethane is far more cost effective than rubber in terms of the cost for every ton transported and the energy application use, says polyurethane moulding com- pany Urethane Moulded Products (UMP) MD Trevor Carolin.
"Polyurethane includes many benefits, such as its sturdiness in abrasive environments, which far outweighs costs concerns, albeit that polyurethane costs about twice as much as rubber," he states, adding that UMP uses rubber and polyurethane in its product and service offering.

Carolin explains that when an operator is pumping mat-erials through a rubber-lined pipe, the coefficient of friction of the rubber is higher than that of polyurethane and, therefore, the electricity input required to pump the material through the pipeline is higher.
However, he emphasises that these factors should not automatically mean that rubber should be substituted for polyurethane in every application, as there are many cases where rubber will be the better option.
Further, Carolin says that, should a company replace a rubber lining with a polyurethane liner in a dry-abrasion setting, it is more likely to fail than rubber, owing to polyurethane not being suited for such applications.
Conversely, he points out that when contractors install a pipeline, a polyurethane lining is better suited to a straight line or slurry pipeline, owing to its high abrasion tolerance. When rubber is used instead and a failure occurs, then rubber unfairly gets a bad reputation; therefore, "correct application selection is critically important".
Carolin notes that UMP is often approached by clients who are constructing pipelines over short periods, ranging from a couple of months to a few years. In such cases, the company recommends using a good-quality rubber lining, as opposed to a polyurethane one, as "it does not make financial sense to use a polyurethane lining for a temporary pipeline".
Polyurethane Positives
Carolin recounts that, in the 1970s, when UMP was established, a significant number of the flotation and pump com- ponents used in the mineral processing industry were moulded out of rubber, which was then the industry standard.
"However, in 1978, UMP converted the linings in a set of Wemco 66 rotors at platinum major Impala Platinum's mines in the Bushveld Complex, near Rustenburg, in the North West, from rubber to urethane and found that they considerably extended the wear life of the rotors," he states.
Carolin says the routers lasted about six times longer than they used to by extending the router lining's life span from an average of about eight months to about four years.
He concludes that poly- urethane has a long history of increasing equipment life span in South Africa, but stresses that rubber still remains an important part of industrial application use.