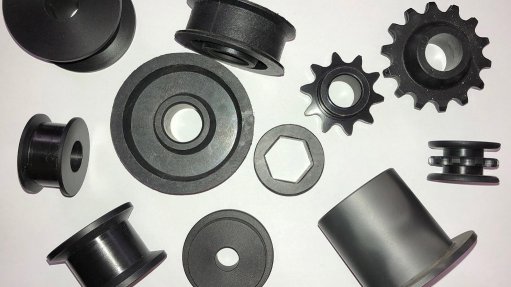 MANUFACTURING MARVEL Parts manufactured for planters and harvesters from vesconite polymers
Polymer b
ushings manufacturer Vesconite Bearings says its polymer bushings are suited to the South African agriculture sector because of their ability to remain efficient even in less than optimal conditions.
Vesconite Bearings' polymer bushings are manufactured from vesconite – a specialised hard-wearing thermopolymer designed for challenging operating conditions developed by founding member Alain Leger in the 1950s.
The company's polymer bushings have been successfully used in applications such as combine harvester steering shaft and kingpin bushings, pivot point bushings on planters, borehole pump bushings, front-loader bushings on tractors, articulating arm bushings on sprayers and planter bushings.
Vesconite Bearings products are valued by farmers and agricultural equipment manufacturers for being self-lubricating, wear resistant, non-corrosive and durable.
Additionally, polymer bushings are also easy to fit and remove, are what is termed shaft friendly and are resistant to oils and fuels.
"Vesconite Bearings' polymer bushings are low friction, which translates them having a life of up to three to ten times longer, compared with metal bushings, especially under dirty, wet or poorly lubricated conditions," says Vesconite Bearings agricultural technical representative Marius van Zyl.
He adds that Vesconite polymers retain their material integrity and do not swell like nylon when exposed to moisture.
Polymer bushings are grease-free and prevent equipment breakdown, owing to a lack of greasing of component parts. While this is important during good farming seasons, it is particularly important during poor farming seasons and immediately afterwards, when farmers may not have significant capital to spend on equipment.
Van Zyl hopes that a more buoyant mood in the agriculture sector has an influence on capital equipment and part sales. "The next planting season looks to be more promising after substantial rains in the Free State, which farmers have said will make the planting season easier," he says.
To this end, Vesconite Bearings will continue to highlight its polymer bearings at this year's Grain SA's Nampo Harvest Day, which will be held from May 14 to 17, near Bothaville, in the Free State. Not only will the company's products be on show but prizes can also be won, such as magnums of wine, which will be given to ten visitors in a lucky draw.
The popularity of the display at Nampo is a validation that polymer bushings are important products to display at South Africa's largest agriculture expo, where roleplayers in the farming industry seek solutions to the challenges they face, Van Zyl concludes.