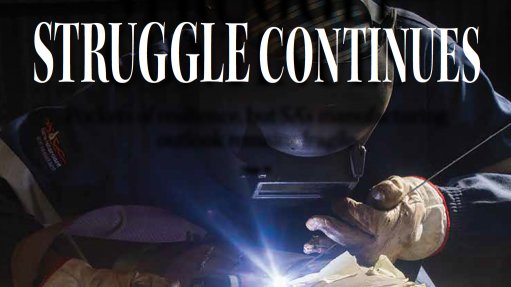 South Africa's manufacturing sector, which has been struggling to shed the 'deindustrialisation' mantle for the past three decades, despite vocal support for the sector from government, is unlikely to experience a dramatic turnaround in 2017. However, there are some signs of resilience and even pockets of recovery. In addition, observers suggest that there is a genuine opportunity to use the country's relatively weakened currency position as a platform to bolster exports, particularly into the rest of Africa. But they also acknowledge that the volatility of the rand makes planning extraordinarily difficult.
Nevertheless, the latest Barclays purchasing managers index (PMI) indicates that the manu- facturing sector has started the year relatively strongly. Following a contraction in the second half of last year, the index rose from 46.3 points in December to 50.9 points last month, marking the first time the PMI has risen above the neutral 50-point mark in five months.
The strong sentiment in the PMI survey was reflected in a significant 17.1-point rise in the expected business conditions subindex to 70.3 points.
"The increase in optimism may be linked to . . . domestic and export demand," Investec economist Kamilla Kaplan said in a statement following the release of the PMI, adding that "domestic demand from allied industries is expected to recover in line with the dissipation of the drought effects and the lift in commodities prices".
Despite the moderate improvement, Kaplan expects growth for the sector to "remain relatively subdued", owing to the modest gross domestic product (GDP) recovery predicted for 2017 of 0.8% year-on-year.
Overall, the sector is expected to grow by 0.5% this year and by 1.2% in 2018, according to data from economic analysis and forecast provider FocusEconomics.
However, Manufacturing Circle executive director Philippa Rodseth points out that the manufacturing sector remains fragile, having been severely impacted on by the 2008 global economic crisis and the turn of the commodity supercycle, which reached its peak in the same year.
"The slow economic recovery of the US and the European Union, as well as slower growth in China, means that pressure will remain on export-orientated industries, such as manufacturing," she states.
Data from the World Bank show that commodities prices decreased by 10.9% from 2012 to 2016 in inflation-adjusted and trade-weighted terms. However, the World Bank's latest South Africa Economic Update, which was published in January last year, found that the manufacturing sector had become more productive and competitive since 2008.
World Bank equitable growth, finance and institutions programme leader Sébastien Dessus points out that the improved competitiveness of the local manufacturing sector can be attributed to the depreciation of the rand since the turn of the commodities price cycle. "Our simulations suggest that the trade benefits from the depreciating rand are greatest in the manufacturing sector."
Steel and Engineering Industries Federation of Southern Africa (Seifsa) senior economist Tafadzwa Chibanguza suggests that the operating environment for local manufacturers should improve this year, owing to improved global and local economic outlooks for 2017.
"However, this is a relative statement in that the operating environment is much easier in a domestic environment expected to grow at 1.1% in 2017, as opposed to the 0.4% recorded last year," he comments.
Chibanguza adds that a continued improvement in commodity prices, as a result of increased consumption by China and other developed markets, is expected to "breathe life into commodities-exporting countries", such as South Africa, providing them with some breathing space to repair national balance sheets.
"This should translate into some export orders for the manufacturing sector."
Meanwhile, the manufacturing sector contributed about 12% to South Africa's 2016 GDP, slightly lower than the 2015 contribution of 13%, which "was definitely worse than expected", he says.
Rodseth adds that the sector had stagnant sales during 2016, despite achieving a 0.5% quarter-on-quarter increase in GDP contribution for the third quarter of that year to 13.4%.
The sector's average contribution to GDP has dropped significantly in recent years – the 3.6% contribution from 1994 to 2008 to the 1.9% achieved from 2010 to 2015.
Dessus notes that, in the first three quarters of last year, manufacturing contributed about 14% to GDP at a growth rate of 0.7%, slightly higher than the overall GDP growth of 0.4%.
"While domestic demand for manufactured products is likely to continue to grow slowly – given low overall demand and continued pressure on household budgets – there are opportunities for manufacturing to gain a boost from exports," he says.
Despite increased manufacturing productivity and the advantages gained through a weaker exchange rate, Dessus asserts that the sector still has room for growth, as only 80% of the installed manufacturing capacity of South Africa is being used.
SUBSECTOR PERFORMANCE
Rodseth and Chibanguza say the metals and engineering subsector, which constitutes 29.13% of local manufacturing, had a tough 2016, particularly steel, owing to low demand.
Seifsa's 'State of the Metals and Engineering Sector Report 2017-18' notes that only basic iron and steel products, special purpose machinery, as well as motor vehicle parts and accessories, experienced positive movement in 2016.
The manufacturing performance of structural metal products dropped 5.5% year-on-year, those of general and special purpose machinery 8% and 5.6% respectively, while the biggest decrease of 14.1% occurred in household appliances.
However, Seifsa predicts moderate growth of 1.4% for the metals and engineering subsector in 2017, owing to improved outlooks for the global and domestic economies, as well as positive commodity price trends.
"Additionally, the sector exports 32% of total exports into the Southern African Development Community, which is primarily reliant on commodities prices; therefore, the increase in these prices should translate into some export orders from the region," Chibanguza says.
Meanwhile, Rodseth notes that agroprocessing growth remained flat in 2016, owing to the severe drought last year, "cutting short several years of strong growth".
Agbiz economic and agribusiness intelligence head Wandile Sihlobo notes that, in 2014, agroprocessing accounted for 31.5% of the manufacturing sector's GDP contribution, a 4.3% contribution to the economy in real value-added terms.
Real output for the subsector during 2014 was 31.2% and 7.8% for the manufacturing sector and the economy respectively.
Agroprocessing's share of real domestic fixed investment was 18.4% and 3.2% in the manufacturing sector and the economy respectively.
"Total agroprocessing exports relative to the manufacturing sector and the economy were 16.6% and 9.7%, respectively, while the total imports relative to the manufacturing sector and the economy were 15.2% and 10.1% respectively," Sihlobo says.
BNP Paribas Securities South Africa economist Jeffrey Schultz notes that, going forward, domestic demand for manufactured goods could be supported by an expected improvement in the agriculture sector. "However, this could be countered by a slowdown in consumer spending," he warns.
Rodseth notes that exports for the automotive sector fared better than in the domestic market in 2016, which "remained sluggish, slowing its growth after several years of rapid expansion".
Performance in the petroleum, chemical products, rubber and plastic products subsector also remained flat.
Rodseth says, meanwhile, that, since 2010, the food and beverage subsector has been the largest contributor to local manufacturing, growing from 21.1% to 23.2% in 2015.
"Despite the drought in 2016, the food and beverage subsector remained the top performer in the manufacturing sector, even though there was a slight decline in terms of its contribution to the total output of the manufacturing sector."
She notes that the petroleum, chemical products, rubber and plastic products subsector, while flat in 2015, also increased its share of the local manufacturing sector, growing from 17% in 1998 to 23% in 2015.
"This subsector has been lifted as one of the priorities in the Industrial Policy Action Plan and, thus, incentivised by the Department of Trade and Industry.
"Petroleum, chemical, rubber and plastic products [comprise] 25% of the South African exports basket, the second-most exported goods and services after the metals, metal products, machinery and equipment subsector."
INVESTMENT BARRIERS
Investment will be critical to expand existing production further and expand into new areas, but several factors might hamper private investment, Dessus warns.
He points out that, to seize a competitive advantage, it is important for local manufacturers to break into new markets with existing value chains and supplier networks in a global economy that is forecast to grow moderately at 2.7% this year and at 2.9% in 2018 and 2019.
Emerging markets with high commodities imports are expected to grow at an average of 5.7% from 2017 to 2019, benefiting from the low commodities prices, he explains. As such, nonmineral exports to the rest of Africa, such as manufactured goods, represent an attractive opportunity for South African exporters, Dessus asserts.
Currently, South Africa exports 29% of its nonmineral goods and more than 60% of its services to other African markets.
Dessus states that, while there are barriers to the local manufacturing sector that are becoming less of an obstruction, such as the competitiveness gained by the depreciating rand, others deter investment, including policy uncertainty, improved but fragile labour relations and the lack of skilled labour.
Chibanguza explains that the recent political volatility in South Africa has impacted nega- tively on economic sentiment, which, in turn, impacts on decisions to invest in manufacturing plants and new products, owing to the long-term nature of such investments.
"Although weak, the volatility in the exchange rate also makes planning very difficult, and the exchange rate, which is affected by domestic political and economic developments, makes the operating environment that much more difficult," he says.
Rodseth asserts that the continued impacts of the electricity supply constraints in 2015, rapidly increasing administered prices, labour instability and the lack of competition because of "unfairly incentivised imports" are some of the constraints that continue to obstruct growth in the manufacturing sector.
Dessus and Rodseth note that the improved consistency in electricity supply during 2016 should be less of a hindrance to future investment.
Rodseth points out that, while the Manufac- turing Circle has always advocated the importance of a weaker rand to improve local manufacturing, it is not "the silver bullet" that makes import substitutions less economically viable, but it does help improve South Africa's export-led growth.