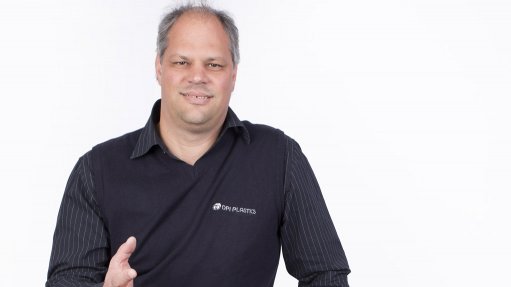 RENIER SNYMAN A properly designed and installed sewer system can last an excess of 50 years
Plastic pipes manufacturer DPI Plastics will publish its comprehensive sewer product manual next month that provides detailed information on its range of polyvinyl chloride (PVC) pipe applications and installations in the sewage and effluent sector.
The manual is based on an existing 28-page manual DPI published in 2005 for sewer pipes, and functions as a hand guide to share information about product range, installation, designing for gravity sewers and chemical resistance.
DPI Plastics product manager Renier Snyman says that, for now, the manual will only be available on the company's website and thereafter in a printed version for hand out at industry shows, conferences and events.
"The information from the previously published sewer publication was outdated as we did not have the expanded range of up to 630 mm diameter pipes," he says, adding that the company created a manual that covers all the aspects, from transportation to pipe specifications, which was also previously not covered.
DPI has been working on the manual since early 2016, with Snyman noting that the manual will be most useful for architects, engineers and plumbers.
He adds that he compiled the manual with DPI marketing manager Martine Goodchild. While compiling the manual, they consulted the South African Bureau of Standards' SANS 2001 series code on construction, which details sewer pipeline installations, as well as SANS 1601, SANS 791 and SANS 967 series codes.
The manual contains PVC pipe ranges for the entire sewer system, from the point of use in households up to the main sewer line. The manual also contains information on DPI's 630 mm Durodrain pipe, which is the largest pipe in DPI's PVC range for its sewer applications range.
Meanwhile, Snyman mentions that DPI has plants in Namibia, Angola, Tanzania and Mauritius. The manual will also benefit those plants and their customers in terms of understanding DPI products and installation.
"We will look at the sewer manual on a five-yearly basis to determine the necessity of updates, but if the product range expands beforehand, we will update the manual accordingly as and when required," Snyman concludes.