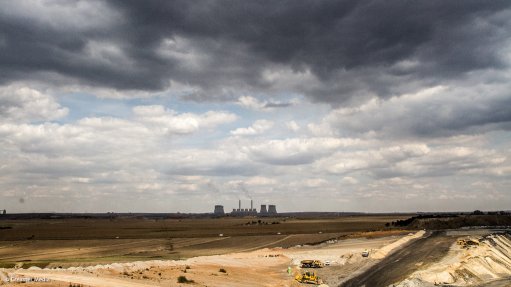 Photo by: Creamer Media
The outgoing National Planning Commission (NPC) is preparing to hand over the extensive work it has done to build consensus on South Africa's 'just transition' to a low-carbon and climate-resilient society to the newly formed Presidential Coordinating Commission on Climate Change (PCCCC).
When doing so this week, Commissioner Tasneem Essop said that it would emphasise that a transparent and inclusive process, which included affected workers and communities, was as important as the outcomes, as developing a social compact on the just transition was a political process rather than a technical exercise.
Recognition should, thus, be given upfront to the highly uneven power relations between stakeholders and to managing these in a way that placed the National Development Plan's objectives of reducing poverty and inequality and creating jobs at the heart of the transition.
Delivering a presentation during a virtual NPC roundtable on the economy, Essop said it was crucial that the just transition be given an institutional home and she expressed optimism that the PCCCC could play that role.
It would be important, however, for the PCCCC's mandate to include the overseeing of negotiations for a social compact on the transition, without which vulnerable groupings were unlikely to share in the benefits of the proposed structural changes, including possible ownership in distributed renewable-energy assets, nor be shielded from its perils.
Without an institutional framework, supported by a broadly negotiated compact, there was a risk that the various just-transition initiatives that were starting to emerge could become uncoordinated and misaligned with the country's climate and social objectives.
President Cyril Ramaphosa's statement to the United Nations Secretary General's Climate Action Summit last year pointed to the likelihood that the PCCCC would be expected to facilitate the compact envisaged by the NPC.
In his September 23 address, Ramaphosa said that to ensure a just transition "strong and durable social compacts will need to be forged between government, labour, business and civil society".
During a recent dialogue on the just transition, Trade & Industrial Policy Strategies senior economist Gaylor Montmasson-Clair stressed that it was not only up to government to facilitate the just transition and warned that too much emphasis was currently being given to the role of the State.
"Government needs to drive the transition but everyone has a role to play – the private sector, labour and communities," Montmasson-Clair said, adding that there were a number of existing labour market, industrial and social protection policies that could be harnessed to contribute to a just transition.
He also argued that South Africa should seek to move beyond the procedural and distributive justice dimensions of the transition and begin integrating "restorative justice" principles, whereby active steps could be taken to repair past damage to communities, individuals and the environment.
Essop said that transition hot spots had already been identified by the NPC, including the Mpumalanga province, where most of South Africa's coal mining activity is located.
She confirmed that the NPC would also hand over its draft consolidated just transition report, which was the product of two years of stakeholder engagements in all nine provinces that culminated in a concluding conference held in May 2019.
The report was meant to be presented to stakeholders at a Just Transition Summit scheduled for July last year, but which was cancelled as a result of the Covid-19 pandemic.
It includes a vision for transitioning South Africa to a net-zero carbon economy by 2050 and emphasises an economy-wide approach to the transition, while still recognising the centrality of the energy transition to meeting the goal of climate resilience.
"If we focus only on the energy sector, we will miss out on opportunities that could arise for economic diversification and absorption by other sectors of any job losses that may arise in the energy sector," she concluded.