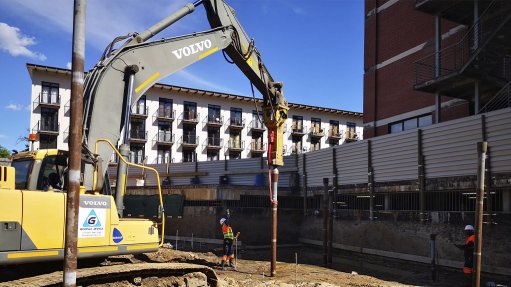 IN ACTION Geopile rig in action installation
Piling contractor Geopile – a subsidiary of South African exploration and geotechnical services provider GeoGroup – has saved its client about R2-million and more than a month's worth of construction time by installing its driven ductile iron-pile solutions for a six-storey mix-use development in Stellenbosch, in the Western Cape.
The piles are driven into the ground to a design depth or resistance. The solution is a simple and economical driven foundation system.
Geopile new businesses and project manager Warwick Nel explains that, if a raft foundation had been used instead of the ductile iron-pile solution, it would have cost more and would have taken the company longer to complete the project.

A raft foundation is a thick concrete slab resting on a large area of soil reinforced with steel. It supports columns or walls, and transfers loads from the structure to the soil.

He adds that a raft foundation would require excessive amounts of concrete, which is not environment friendly.

Commenting on the project in Stellenbosch, Nel mentions that, prior to installing the piles, another Geogroup subsidiary, Geomechanics, did on-site pile testing in October last year to confirm the nature of the bedrock and whether using the iron-pile solution would be appropriate.

The project was completed in December last year.

The company also conducted a series of pile penetration and pull-out tests to accurately predict the number of blows required to drive a pile to its planned depth.

"Once we received the green light from the team who conducted the on-site pile testing, we were able to determine the number of piles required to support the structure. For this project, we installed just over 250 driven ductile iron-pile solutions in two weeks."

He explains that the piling solution used for the project required no pile head trimming after installation and has a serviceability compression load of up to 1 100 kN. This solution is also environment friendly – made from 100% recycled materials and very low ­concrete requirements – and can be used where geotechnical soil analyses are limited.

Nel adds that another advantage of this type of piling solution is that it has a low vibration of less than 2 mm/sec peak particle velocity, which means that the system can be used near sensitive structures.

"We were doing work next to an existing basement of a building and we were piling about 40 cm away from an existing structure."

The company used 3-m-long precast ductile iron tubes, which were hammered into the ground using an excavator with a demolition hammer on it. Owing to the high frequency of blows, it does not produce a lot of vibration.

Meanwhile, Geopile is hoping to branch out into photovoltaic solar, as the company recently bought a solar-powered drill rig to focus on the renewable-energy sector, says Nel.

Additional pile-load testing, as well as the on-site and more in-depth testing of piles' natural load capacity, will enable the company to use its pile solutions more when working on projects involving bridges.

"This is to prove to clients what the capacity load is of the piles and to increase our scope of capabilities. Sometimes you find that the real-life values that you receive from doing the tests is better than the calculated values," concludes Nel.