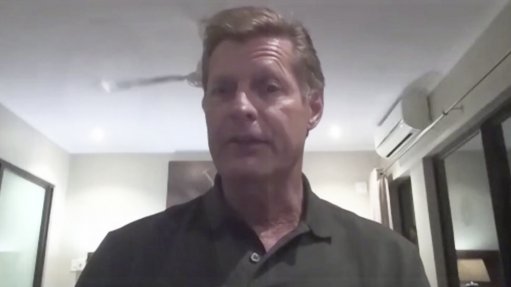 Rainbow Rare Earths CEO George Bennett
JOHANNESBURG (miningweekly.com) – "We have high value rare earth elements totalling $123/t in our gypsum stacks and multiply that by 38-million tonnes and that can give you an idea of the value of these stacks," Rainbow Rare Earths CEO George Bennett has told Flagstaff TV.
The gypsum dumps – built up from half a century of hard rock phosphate mining near Phalaborwa, in Limpopo – contain rare earths needed by a fast greening world.
In an interview with Flagstaff TV's Catherine McQueen emailed to Mining Weekly, Bennett said the percentage of rare earth elements in the stacks may be the world's highest.
"Our basket has been confirmed as representing 29% of these two elements in our rare earths basket, which is a very, very high percentage for any project worldwide. I think it's possibly the highest I've seen in any project worldwide," said Bennett, who was appointed CEO in August 2019, and who is best known for founding MDM Engineering, which was listed in London in 2008 and sold to global engineering company Amec Foster Wheeler in 2017.
With metallurgical test results on track, the London Aim-listed junior will be able to initiate its preliminary economic assessments next month.
"We're looking at over 38-million tonnes of gypsum in these two stacks, grading at 0.43% total rare earth oxides. So, we've got a year or two of project life when we start processing these stacks," said Bennett.
"These results prove that we've got very high value of neodymium and praseodymium in these gypsum stacks, which are the two key rare earths needed for permanent magnets, which are driving the green revolution worldwide in electric vehicles, wind turbines and so forth.
"This also equates to $95/t of rare earth minerals in the gypsum and we have 38-million tonnes of gypsum at the moment, and very importantly we also have economic values of dysprosium terbium, also key for permanent magnets and for the green tech revolution in terbium as well. This equates to another $28/t in our gypsum stacks. So combined, we have high value rare elements totalling $123/t in our gypsum stacks", which multiplied by the 38-million tonnes is $4.7-billion.
"Another key element is that we've confirmed very low levels of uranium and thorium, which confirm the green credentials of this project. In other words, we have totally benign gypsum stacks and when we redeposit the clean gypsum on to these stacks, it will be environmentally friendly. We're cleaning up an environmental issue with these two stacks and basically we don't have any radiative problems with this project, which many, many rare earths projects suffer from around the world. So, it's another big bonus for the Phalaborwa project," said Bennett.