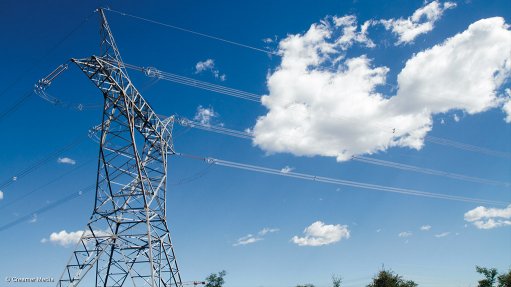 POWER UNITED Terrapinn is expecting about 8 000 attendees from more than 40 African countries, including 350 exhibitors and 300 speakers, to attend PEWA 2018
With 600-million people in Africa not having access to electricity, the onus is on Power & Electricity World Africa (PEWA) to provide the platform that will encourage investment in infrastructure and grid connection across Africa.
"Africa is called the 'bring your own infrastructure' continent – if a company puts down a mine, it has to build its own power station. Many original-equipment manufacturers say the next tier of growth in the energy sector will come from large energy users that build their own energy infrastructure," says event organiser Terrapinn energy and resources GM Samukelo Madlabane.
He expects about 8 000 attendees from more than 40 African countries, including 350 exhibitors and 300 speakers, to attend "the biggest energy-focused event in Africa", which is held in South Africa.
PEWA primarily targets utilities, independent power producers (IPPs), regulatory bodies, investors, government Ministries and municipalities to attend, but also targets large energy users, such as mining companies.
"We have relationships with chambers of mines and chambers of commerce across Africa, and have invited their members to attend. Commercial buyers are also welcome, since power generator exhibitors and attendees also cater for them."

The event also welcomes unique service providers, such as power ships, which provide plug-ins to power in coastal areas.
PEWA is not limited to energy stakeholders, as the Water Show Africa co-locates with the event, attracting water boards, utilities, municipalities, large water users and suppliers in the sector. This show – endorsed by the Department of Water and Sanitation – will host discussions on the department's water master plan in view of the prevailing drought in parts of South Africa.
Further, PEWA evolves as trends in the energy sector evolve. Madlabane points out that, as renewable-energy grids are starting to play a bigger part in Africa's energy mix, the event responds by inviting speakers and attendees from IPPs and renewable-energy sectors.
"There are a lot of geothermal power projects being developed and implemented in East Africa. For example, Kenya wants to develop 5 000 MW of geothermal power. Terrapinn ensures that the agenda caters for that."
Energy storage and mini-grids have also become hot topics in the energy sector, to which PEWA responds by inviting power plant equipment suppliers and solution providers to either sponsor or exhibit, including, but not limited to, Mitsubishi Hitachi Power Systems Africa, Siemens, SMA Solar Technology, Aberdare Cables and Conlog.
To determine the considerations and trends that inform PEWA's agenda, Terrapinn consults with an advisory board, comprising members from utilities; municipalities; government officials; investors; engineering, procurement and construction contractors; developers; turnkey solution providers; and other stakeholders in the sector.
"For example, our board has identified digitalisation as a trend and the key topic now is how companies retrofit existing infrastructure to bring in digital components that introduce efficiencies in asset management," avers Madlabane.
Additionally, Terrapinn's energy team has been travelling to about two African countries – such as Burkina Faso, Central African Republic, Nigeria, Tanzania, Egypt, Algeria, Morocco and Tunisia – a month since 2015 to understand their daily challenges and issues faced with on-the-ground energy operations.
These insights enable Terrapinn to form a picture of the challenges facing energy sectors across the continent, suggest solutions and attract the correct problem- solvers at PEWA.
While on these trips, Madlabane and his team attends yearly general meetings and visits associations, including the Association of Power Utilities of Africa, Western Africa Power Pool and Eastern Africa Power Pool. "It is exposure that we have translated into a conference programme, which is continuously refreshed and revised."
Terrapinn's next trips will be to Botswana Power Corporation, in Botswana, and Elec- tricidade de Moçambique, in Mozambique, in preparation for next year's PEWA.
Extra Initiative
Terrapinn introduced its Africa Boardroom concept at PEWA last year, and will host it again this year. It will include high-profile speakers, such as electric power distribution company Kenya Power, Lighting Company CEO Ken Tarus and Burkina Faso's Energy Minister.
The Africa Boardroom is a meeting service for PEWA sponsors, African energy utilities and IPPs. "This service has preselected 40 of the top African buyers in the energy space, allowing for face-time with decision- makers that would otherwise have required months to secure a meeting," highlights Madlabane.
He adds that this is an opportunity to get exclusive insights into projects and influence policy in Africa.
PEWA includes event highlights in the agenda, which are "not to be missed". These highlights can take the form of a product launch or demonstration, signing with a partnering company, a skills development initiative, new innovations or a press release.
Further, government oversight organisation South African Local Government Association (Salga) is earmarked to have an event highlight this year, which will entail a panel that will discuss solutions for the electricity billing crisis of South Africa, especially at municipal level, and how to improve the collection of this revenue.
The association will also introduce new efficient technologies around billing and metering. "Salga will use this platform to help build up their capacity at municipal level," notes Madlabane.
PEWA will also present an innovation hub on the exhibition floor that includes stands from small and medium-sized enterprises (SMEs), with the Energy and Water Sector Education and Training Authority hosting a workshop where 40 invited people from SMEs will be upskilled and assisted in finding jobs in the local energy sector.
This year's event will take place on March 27 and 28, at the Sandton Convention Centre, in Johannesburg.