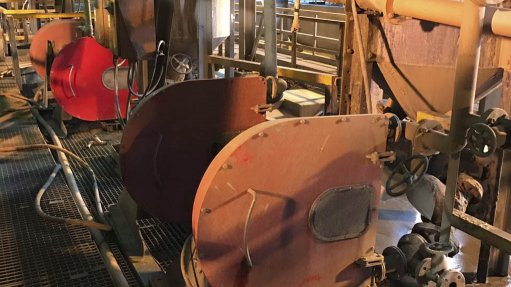 FROTH APPLICATION The AFX065 was selected as the company's first platinum froth application
Owing to the high air entrainment and shear sensitivity of froth pulp, mixing equipment and peristaltic pumps manufacturer Afromix applied its AFX065 peristaltic hose pump – which is already associated with arduous mining and industrial applications – to mitigate this challenge.
Afromix applications engineer Thamaga Matuludi says froth flotation is a mineral beneficiation process whereby valuable minerals are separated from tailings by taking advantage of the differences in their hydrophobicity.
"To achieve optimal separation of valuable minerals from waste, sufficient air needs to be dispersed into the float cell at the correct slurry density to form stable froth. Froth stability, as enhanced by the addition of a collector, is one of the key characteristics of flotation, as it promotes formation of air bubbles that are necessary to provide the buoyant force that carries hydrophobic minerals to the surface of the pulp."
He adds that the overflow stream from the float cell is then collected in the overflow launder of the cell, where it may be collected in a tank, prior to being pumped to the next stage of the process.
"The AFX065 was especially configured for use at a platinum mine and was supplied with a 4 kW motor and gearbox at the beginning of 2016 to pump the launder to the next step in the process," Matuludi says.
He explains that froth tends to over aerate when pumped using conventional centrifugal pumps, owing to excessive attrition and shear. To avoid this, additional costly defoaming agents are normally added to the froth.
"The AFX pumps series do not have the same shearing effect on the froth, meaning that the product being pumped is almost undisturbed." Further, Afromix application engineer Ernest Wermuth explains that the AFX pump can handle the air entrapment within the froth with ease, without encountering the typical problems one would experience using conventional pumps.
Matuludi adds that froth pumping using centrifugal pumps can lead to cavitation, resulting in the wear of pump components, excessive vibration causing premature seal and bearing failures, as well as high power consumption and decreased flow or pressure.
"As a result of the AFX pumps series' low shear pumping action and low-resistance roller technology, the AFX pump proves to be an extremely energy efficient and low-maintenance solution for froth- pumping applications," notes Wermuth.
He contends that the installation of AFX pumps is "extremely simple", but that users must always pay careful attention to pulsation when working with peristaltic pumps, as they "inherently pulsate during operation owing to compressing and releasing of the hose".
To offset any pulsation effect, Wermuth adds that Afromix can supply special pulsation dampeners, which absorb up to 90% of the pulsation, thereby eliminating any pulsation issues.
AFX pumps are delivered as complete units, with installation taking a couple of hours, depending on the availability of on-site staff.
"For our platinum mine client, the changeover was not only a great success but seemingly 'painless', as the pumps were supplied fully assembled and ready to run," says Matuludi, adding that there was no need for special calibrations or alignment during installation.
He mentions that an Afromix application engineer is readily available at a client's request for supervision during installation.
"We prefer, however, to provide on-site training for the installation of our pumps to promote skills development," Matuludi adds.
To further promote skills development at the company, Afromix currently offers training for 12 participants at its manufacturing facility in the Kruisriver industrial area in Uitenhage, in the Eastern Cape.
The short-term goal of Afromix is to train unskilled workers so that they ultimately become skilled or specialised in the "unique" processes of the company, Wermuth enthuses.
"For example, general workers with no previous welding experience are trained to weld with metal inert gas, or MIG, and tungsten inert gas, or TIG, to our exceptionally high in-house standards."
Afromix nondestructive testing (NDT) inspectors observe the NDT department at the Uitenhage facility to ensure that welding is free from defects using magnetic particle inspection (MPI).
"The inspectors have successfully trained and mentored three unskilled workers. They have been trained to the point where they can independently perform MPI and dye pen and are now ready to formally qualify as inspectors," Wermuth explains.
Matuludi adds that another area of Afromix's skills development training entails the training of unskilled workers with the hand grinding and cosmetic finishing processes for the final product, to ensure the high-quality finish that the company requires.
"Each general worker who has passed through our doors over the past two years, has been successfully trained in the cosmetic and grinding role. Once staff are trained in this role and understand the exceptionally high-quality standard that we expect, it's another starting point for us to identify staff who have the potential to receive further specialised training and development."
Meanwhile, Wermuth adds that the Afromix testing labora- tory, located in Jet Park, Johannesburg, is equipped with a range of equipment to enable the company to test product characteristics or identify metallurgical infor- mation that might affect mechanical designs or equip- ment selections.
"This can include the investigation of complex rheological properties, which can be vital in the root cause analysis of existing issues. There are a lot of possibilities for what can go wrong, hence, the need to do testwork to understand. These test results are used to support our design teams using computational fluid dynamics software and finite element analysis."
Wermuth concludes that the laboratory is being expanded this year and will be equipped to do prolonged equipment testing of proto- types as well as testing the effects and effectiveness of Afromix's equipment in new applications.