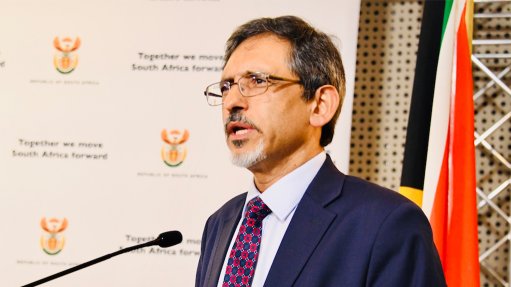 Trade, Industry and Competition Minister Ebrahim Patel
Trade, Industry and Competition Minister Ebrahim Patel is drafting guidelines on employee ownership and other broad-based ownership schemes.
He intends to publish, in the coming week, a practice note dealing with some clarifications around community trusts and individual ownership schemes.
Additionally, the Minister and his department is creating a register of companies that have implemented employee share ownership plans (Esops).
More than 150 000 South African employees are part-owners of the companies they work for through shareholdings in those firms. Patel estimates that more than R100-billion of value has been transferred to employees.
A more detailed view could come to light through the creation of a database of Esops, particularly as data from non-listed companies can be included, in addition to publicly available data from listed companies.
The Department of Trade, Industry and Competition is also engaging with business and labour through the National Economic Development and Labour Council to determine the best way forward with broad-based ownership schemes, including having worker representation at board level.
Thereafter, the Minister intends to amend the Companies Act accordingly.
These discussions include the rationale for worker representation on boards, the challenges that will need to be overcome and the ideal mix of mandatory and voluntary arrangements.
Patel on April 30 hosted a briefing on employee ownership structures, in light of the importance of broad-based transformation in addressing past challenges and reigniting the South African economy.
He believes a vital element of broad-based transformation includes bringing workers into the ownership and representative structures of companies, through equity or shares.
A number of companies have implemented or have agreed to implement worker ownership structures, including beverage companies Coca-Cola Beverages South Africa (CCBSA), Pepsico South Africa and AB InBev South Africa, as well as Astron Energy, telecoms giant Vodacom, petrochemicals group Sasol and iron-ore miner Kumba Iron Ore.
For example, CCBSA is in the final stages of completing its Esop, which involves having its 8 000 employees own 15% of the total issued share capital of the company.
CCBSA public affairs and sustainability director Nozicelo Ngcobo noted that the company has also agreed to have workers represented at board level through two worker director appointments.
Beneficiaries of the CCBSA Esop receive equal participation opportunity to the Esop, irrespective of management level or years of service, while the scheme will likely boost the company's Black Economic Empowerment scorecard to Level 1 status.
Following a merger of Pioneer Foods and Simba under the Pepsico business, which was approved by the competition authorities last year, Pepsico is initiating a scheme worth R1.6-billion whereby 12 000 employees will benefit.
Pepsico CEO Tertius Carstens said the company plans to launch the scheme in September and will have employee-appointed trustees. One of these trustees will become part of the Pioneer Foods entity.
AB InBev, which is the owner of South African Breweries, has obtained board approval to launch the worker portion of the company's empowerment commitments, affording 5 600 employees a chance to participate in its Esop valued at R2.4-billion.
In addition to retailers' participation, should they choose to invest, it will result in a R5-billion new scheme being listed on the JSE.
AB InBev South Africa finance VP Richard Rivett-Carnac explained that the JSE listing will provide liquidity earlier for the beneficiaries, as well as ensure transparency about the success, or not, of the business.
The new scheme is called Zenzele Kabili and will be officially launched soon.
Astron Energy Jonathan Molapo said the company will soon launch a scheme involving 1 000 employees in South Africa benefitting from a 5% shareholding in the company.
The Minister told media that airline Comair has initiated a deal related to employee shares that will benefit 2 000 workers and should be finalised around October.
Patel pointed out his awareness of 29 000 workers that are currently in the process of being covered by these kinds of schemes.
"An increasing number of JSE-listed companies have leveraged worker ownership to drive transformation in their companies, including insurance broker Sanlam, platinum miner Impala Platinum and retail company Cashbuild.
"The Industrial Development Corporation (IDC) has also been championing the use of worker ownership structures in their portfolio of companies. It currently has 25 companies in its portfolio with Esops, covering 4 600 people," he stated.
IDC chairperson Busi Mabuza added that the corporation has invested more than R1.6-billion in support of such efforts.
In fact, the IDC has an "early realisation benefit scheme" that involves the IDC providing workers' trusts with grant funding to acquire relevant assets for the business that they are part owners of, which ensures that monthly revenue is generated for the trust and that the gap is closed between the often long payment period with Esops that tends to discourage employees.
Congress of South African Trade Unions representative Tony Ehrenreich highlighted how the union sees benefits of Esops beyond financial gain for employees, in that these schemes reduce inequality and improve lives, while increasing overall productivity levels.
Business Unity South Africa VP Martin Kingston warned that Esops have to be carefully thought through in terms of who it is aimed at benefitting, and whether it excludes any group of people, issues around vendor funding and whether the scheme should be valid for a fixed term or evergreen.
"The schemes often take a while to implement, and carry risks, which need to be communicated to all stakeholders properly. The transaction size to ensure meaningful value is also something that requires thought, while the cost of putting together the transaction is often underestimated.
"It is important to give consideration to the nuances of Esops for them to be effective and realise the proper benefits," he averred.