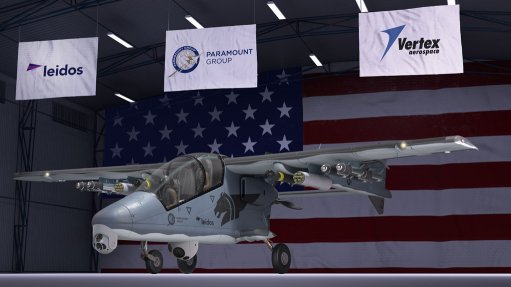 Paramount US's Bronco II aircraft
A team from US-based defence engineering company Leidos, in partnership with South African aerospace and defence company Paramount Group, has been selected to enter the final phase of the US Special Operations Command's (Socom's) Armed Overwatch aircraft prototype programme.
Leidos, Paramount US and Vertex were among five teams awarded a total of $19.3-million for prototype demonstrations and will advance the Bronco II aircraft to the third phase of operational prototype demonstration later in June.
The Bronco II-type aircraft is designed for ultimate mission flexibility, with its internal interchangeable multi-mission system bay enabling a single airframe to be easily and rapidly reconfigured to perform multiple roles.
Such roles include intelligence, surveillance and reconnaissance; strike control and reconnaissance; forward air control; and close air support.
As such, the ideal aircraft should incorporate high-performance sensors, network communication systems, precision weapons, an electronic self-protection suite and mission planning systems.
Leidos Defense Group president Gerry Fasano says the company's team combines decades of experience both integrating and manufacturing modern airborne solutions for the war fighter.
Paramount Group chairperson Ivor Ichikowitz says Bronco II is the definitive next-generation aircraft, which has been designed to be future-proofed against evolving operational requirements in the asymmetrical battlespace specifically inhabited by Socom.
"Through our partnerships with Leidos, we are looking forward to building on our 27-year legacy of designing and producing rugged technologically advanced systems. Our team has designed and developed an America-centric platform for the world market, and we are looking forward to bringing Bronco II back to America," he adds.
Vertex Aerospace president and CEO Ed Boyington notes that the company has a 50-year legacy of supporting war fighter missions.
"Vertex's highly skilled employees will assemble the aircraft and provide the final systems support integration and launch the Bronco II for customer delivery from our Crestview, Florida facility."