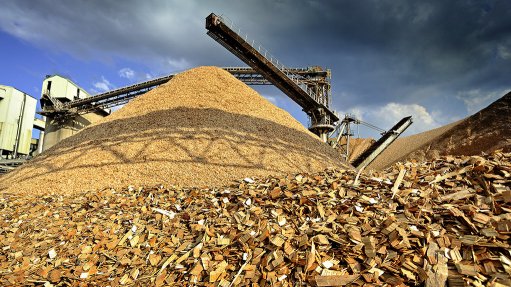 GROWTH PROJECTION The paper industry's energy-saving initiatives are paying off amidst South Africa's stagnant economy
Photo by: Sappi
While the South African economy has been relatively stagnant over the past two years and is not expected to grow much this year – with 2% being an optimistic upward growth projection – the pulp and paper industry is "doing well under extremely difficult circumstances", says Paper Manufacturers Association of South Africa (Pamsa) executive director Jane Molony.
She tells Engineering News that the industry's energy-saving initiatives are paying off, but electricity price increases – expected this year – owing to the need for tariffs to be cost reflective, will impact negatively on the economy.
Molony explains that the cost of State-owned power utility Eskom's Medupi and Kusile power stations, along with the capacity requirements of Eskom's Ankerlig and Gourikwa open-cycle gas turbines, are significant. As a result, government approached Pamsa in early December to assist with South Africa's current shortage of electricity, by asking the association how quickly its members could contribute additional cogeneration power to the grid.
The energy produced through Pamsa's cogeneration process is between 40% and 60% less carbon intensive than the power generated by Eskom, which results in a greener approach to power generation.
Molony says Pamsa members look forward to the upcoming request for proposals (RFP) for cogeneration, which is due at the end of this month. The announcement of a cogeneration programme is essential to enable invest- ments by the sector, which will expand their electricity supply to the grid and positively impact on the economy overall, as well as job creation in rural areas.
The RFP is a work in progress and only Eskom's IPP Office and the Department of Energy can supply current information as to its status. However, at an Energy Indaba held recently in KwaZulu-Natal, the Minister of Energy announced that, in addition to the Ministerial determination for 800 MW of cogeneration made in December 2012, there will be a determination for an additional 1 000 MW later this year.

Molony tells Engineering News that 75% of the revenue generated by the pulp and paper industry comes from paper mills in KwaZulu-Natal.
"Further, Pamsa statistics for 2014 indicate that the value of the pulp and paper industry (excluding forests and recycling) in South Africa is worth about R27.8-billion," she says.
The International Trade Administration Commission of South Africa granted a 10% increase in import tariffs to help prevent the dumping of A4 copier paper, thereby creating a level playing field for local producers. In fact, overall consumption of printing and writing grades have reduced and, as a consequence, production has reduced too.
Molony adds, however, that coated fine paper is no longer produced in South Africa and is, therefore, imported. There has also been a shift to producing more packaging paper grades. Local demand for A4 copier paper, except for deep-dyed coloured paper, is largely met by local production.
Industry Challenges
Besides South Africa's current electricity shortage, Pamsa faces the challenge of the industry not being able to plant as many trees as quickly as it would like to. This has been an ongoing challenge with only 5 104 ha net increase from 2008 to 2012 of the 100 000 ha net increase target by 2018 that was set in 2008 in the Broad-Based Black Economic-Empowerment Forest Sector Transformation Charter. More recently, there has been some movement in the issuing of around 7 000 ha worth of water licences for planting trees in the Eastern Cape. Environmental-impact assessments (EIAs) also have to be conducted before licences are granted to plant trees. This creates difficulties, especially for small growers.
Molony explains that, in South Africa, only 9% of trees planted in the country are harvested in any one year and these are replanted in the same year. About 60% of all plantation trees are grown specifically for pulp and paper production.
Further, through its carbon accounting system, the United Nations Framework Convention on Climate Change can measure the amount of carbon stored in pulp and paper products, acknowledging the scientific fact that, through photosynthesis, carbon dioxide is taken out of the atmosphere and stored in the product.
Pamsa states that, by recycling paper, the carbon originally stored by trees in their wood fibres remains 'locked up' and out of the atmosphere for longer, thus reducing greenhouse-gas emissions.
Pamsa further mitigates industry challenges by working closely with government and its sister association Forestry South Africa, as well as the departments of Water and Environmental Affairs; Agriculture, Forestry and Fisheries; and Trade and Industry as part of the Industrial Policy Action Plan. Forestry SA has assisted with funding for EIA's for small tree growers in the past. This was funded through the Industrial Development Corporation.
Growth Potential
Molony highlights that the biggest potential for growth in the pulp and paper industry lies in packaging and tissue paper, as the rising middle class is using more hygiene products and, to date, tissue production has been largely flat.
According to Pamsa's latest turnover statistics, packaging grades achieved a yearly turnover of R8.25-billion in 2014 – a yearly growth rate of 7.8% in revenue since 2009 – while tissue paper achieved a yearly turnover of R2.5-billion in 2014 – a yearly growth rate of 2.7% since 2009.
With regard to packaging, Molony highlights that people are beginning to understand that paper is a renewable resource, given the cycle of planting trees, pulping, making paper, recycling paper, replanting trees and then repeating the process.
"From a life-cycle perspective, it is an incredibly sustainable option for packaging," concludes Molony.