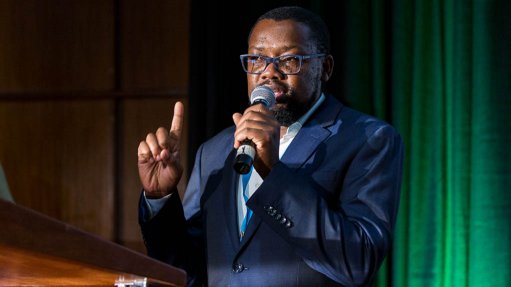 HENRY NUWARINDA The Global Eco-Industrial Park Programme will ensure an added level of quality control and cost-efficiency
The National Cleaner Production Centre South Africa (NCPC-SA) will host a panel at this year's Manufacturing Indaba on industrial parks, the potential to transform them into eco-industrial parks (EIPs) and leveraging them for accelerated development.
This year, the NCPC-SA, United Nations Industrial Development Organisation (Unido) and the Department of Trade, Industry and Competition (DTIC) startedworking on a new project – the Global EIP Programme (GEIPP).
The aim of hosting this panel is to "reach out to a wider array of stakeholders and potential collaborators in the implementation of the project", NCPC-SA project manager Henry Nuwarinda tells Engineering News.
The first Unido pilot initiatives on EIPs were implemented in 2010 in India and Tunisia. Since 2012, the EIPs have expanded to several other countries. The GEIPP is being run in a few countries, with South Africa being the most recently added partner in February.
The initial list of eligible countries of the GEIPP were Colombia, Egypt, Ghana, Indonesia, Peru, Ukraine and Vietnam.
"This preliminary list of countries was established based on a preconsultation with the Swiss Agency for Development and Cooperation, and takes into account requests from partner countries and the priority of EIPs at country level," says DTIC regional industrial development director Bernd Oellermann.
The GEIPP is structured as a series of country-level initiatives jointly supported by a separate global component. The programme intends to foster coherence through immediate advice and support, as well as through sharing lessons learned from other GEIPP country projects.
"This structure brings immense benefits at country level to individual countries that are part of the GEIPP, as the experiences of previous country-level interventions can be provided through the global component when most needed," explains Nuwarinda.
Oellermann explains that the GEIPP demonstrates the viability and benefits of "greening" industrial parks by improving resource productivity and economic, environmental and social performances of businesses, thereby contributing to inclusive and sustainable industrial development.
Nuwarinda says the GEIPP will ensure an added level of quality control and cost-efficiency, as several tools and approaches can be developed centrally to serve all country-level interventions.
He adds that the global component will benefit the country-level interventions by refining and finalising the EIP tools and guidance. This will ensure that each GEIPP country-level intervention undertakes the assessments, planning and implementation in accordance with the advice of developing industrial parks towards EIP standards.
"The global component will support the GEIPP country-level interventions by strengthening the EIP service provider network and infrastructure in the respective partner countries," Nuwarinda explains.
Further, it will develop training materials for implementation at country-level interventions. The materials will also be used for further educating potential EIP service providers at the national level – be they organisations similar to NCPC-SA or others.
According to Oellermann, one of the benefits of transforming to EIPs and leveraging parks for accelerated development for the manufacturing sector is that it would lead to a reduction of input costs such as energy and water.
Green Transition
There will also be support for the transition to green production. This means that European markets, which are increasingly introducing more stringent green criteria for products, will remain accessible to local exporters.
He adds that such a transformation will enable the manufacturing sector to contribute to the Sustainable Development Goals and Paris Agreement commitments, address climate change, as well as contribute to maintaining the sustainability of resources, conserving biodiversity and addressing environmental degradation.
This transition will also enable the sector to have a greater impact on and add increased value to current or planned corporate social responsibility initiatives and other community projects, thereby contributing to local economic development.
Moreover, it will provide opportunities for the "green branding" of companies and improved sustainability indexes.
"The transformation to EIPs facilitates collaboration between companies in a way that improves resource use, saves on production costs and supports innovation through circular-economy-related interventions," says Oellerman.
He adds that it would also provide a cleaner and friendlier environment to work in, and, therefore, reduce health-related costs.
Nuwarinda says the project implementation milestones going forward will include the strengthening of national institutions relevant to EIP policy development and implementation. In addition, the implemented opportunities should be identified in participating industrial parks.
Moreover, the national capacity of service providers, industrial parks and small- to medium-sized enterprise tenants needs to be enhanced to meet international standards and EIP requirements.
"South Africa's role in the GEIPP will be to ensure that the programme activities are implemented and the expected benefits are realised," Nuwarinda concludes.