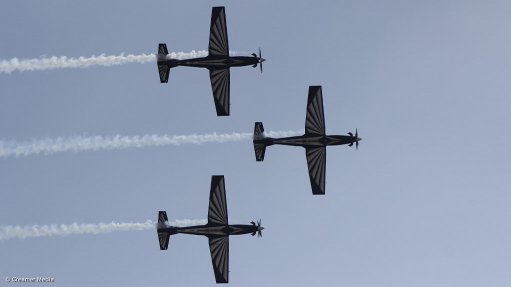 AIMING HIGH The Africa Aerospace and Defence Expo will showcase South African Air Force's capabilities in an ever better air show this year
Despite various challenges in South Africa, as well as in other Southern African Development Community (SADC) countries, the Africa Aerospace and Defence (AAD) Expo organisers hope to host a successful event this year, says AAD exhibition director Leona Redelinghuys.
These difficulties include not only the global economic decline but also South Africa's declining defence budget and the delayed procurement of new equipment.
However, she says, by boosting the show with greater attractions, targeting a broader market and holding a more appealing and engaging air show, this year's organisers are combatting the decline in public and business interest.
"We want to champion the collective interests of the South African government and the South African aerospace and defence industries," says Redelinghuys.
She adds that drawing visitors from not only the business sector but also the public domain is of the "utmost importance" for an event of this magnitude.
The biennial AAD event, comprising a three-day trade show followed by a two-day air show, will be hosted at the Waterkloof Air Force Base, in Tshwane, from September 16 to 20.
Apart from the traditional technologies and sectors featured during the AAD event, the organisers aim to include other previously untapped sectors to showcase other capabilities in areas where defence and aviation technologies are used.
These include remote pilot aircraft systems, as well as the business jet sector, which includes repair and maintenance. There will also be opportunity for the safety and security sectors to showcase their offerings.
AAD will also consider services and/or goods that can be supplied to the broader security sector, mining and oil sectors, as well as the aerospace sector.
"With defence and aviation goods and services being used in many instances in these sectors, we believe that showcasing capabilities to these sectors can open up markets for our exhibitors," enthuses Redelinghuys.
She adds that another attraction will be the General Aviation Park, launched at the end of last year, which will enable general aviation companies to showcase their products and services, making it the ideal area for a buyer or stakeholder to meet with these companies.
"We can already confirm participation of companies, such as aviation consultants Money Aviation and financial service provider Aircraft Finance Corporation, which have not previously participated in the expo," enthuses Redelinghuys.
Moreover, this year's event will host the South African Air Force's (SAAF's) centenary celebrations, to coincide with 25 years of the country's democracy.
Notably, the South African defence industry (SADI) is a key incubator of critical skills that will shape South Africa's position in the Fourth Industrial Revolution, as its capabilities range across all system levels and include engineering, design and prototyping, as well as the integration and testing of products in most defence fields.
South Africa has excelled in developing innovative artillery systems and land vehicles, unmanned systems, aircraft, missiles and guided weapons, shipbuilding capabilities and naval craft making use of command, control, communications, computers, intelligence, surveillance and reconnaissance solutions – commonly termed C4ISR. These capabilities will be showcased at the expo.
Further innovations include combat suites, radar systems, avionics, aero-engines, sensors and nanotechnology, with the SADI's support capabilities, upgrades and life extensions, logistics, quality and configuration management, war-gaming and simulation described as globally competitive.
The organisers can confirm international participation and representation from Belgium, Lithuania, Turkey, the US, Ukraine, Italy, France, Brazil, Canada, Russia, China, the UK and United Arab Emirates.
"Our aim has always been and will remain to offer our exhibitors access to the African market through hosting a globally competitive exhibition that promotes trade and growth in Africa," concludes Redelinghuys.