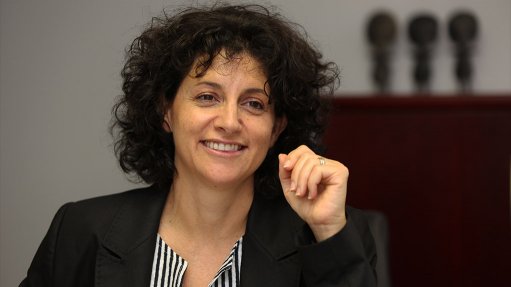 TANYA COHEN South Africa's automotive manufacturing industry is a key industry in terms of employment numbers and investment
Business lobby organisation Business Unity South Africa (Busa) will be one of the organisations that will deliver a presentation at this year's National Association of Automotive Component and Allied Manufacturers (Naacam) Show later this month.
Busa CEO Tanya Cohen tells Engineering News that a strong focus on the practical application of transformation, as part of innovating, sets the show apart from other automotive shows. "The programme is packed with interesting speakers, exhibitions and topics of discussion."
One of the key themes Busa will focus on during its presentation is its support for embedding and promoting transformation in the automotive industry. "As the apex business organisation in the country, Busa is also at the fore of advocating for an enabling environment for investment and innovation," says Cohen.
Meanwhile, she says South Africa's automotive manufacturing industry is a key industry in terms of employment and investment. "It is one of the areas where business and government have been able to showcase the value of collaboration and consultation in policymaking."
However, the automotive manufacturing industry – like any other industry –faces challenges, such as regulatory uncertainty, which can affect future investment, says Cohen.
The automotive sector is one of the biggest drivers of foreign direct investment and job creation in the country, she emphasises. "Having certainty aids foreign investment and job creation, but uncertainty can delay potential investment and the realisation of job creation initiatives."
Meanwhile, Busa hosted its inaugural Business Economic Indaba in January with the aim being to facilitate strategic dialogue on a transformed and inclusive economy.
Cohen says some of the key points of the Indaba included Busa's push for the Fourth Industrial Revolution to be embedded in education to ensure that the opportunities that new skills and training present, are taken advantage of.
Another aspect was Busa's continued working partnership and collaboration with government. It looked at how businesses are playing an active role in the economy and being at the fore of solutions that will help South Africa's economy to start growing again.
Lastly, the Indaba looked at attempts to resolve State-owned power utility Eskom's crisis, "as it is our considered view that Eskom is too big and too important to fail because it is the backbone of the economy", concludes Cohen.