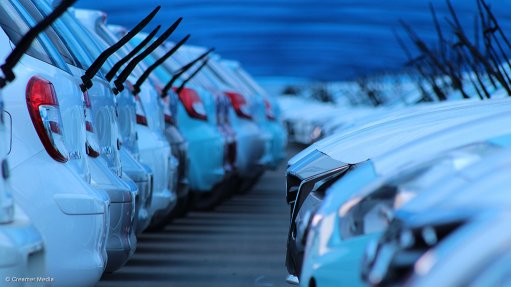 OneLogix's Umlaas logistics hub.
Photo by: Creamer Media
Logistics group OneLogix, headed by Ian Lourens, on August 26 said signs of recovery from the damaging effects of the Covid-19-induced economic environment "only became evident well into the [financial] year under review", ended May 31, while the different stages of lockdowns had varying impacts on the group's businesses.
He stated, however, that the impact of the pandemic "should not be underestimated" and said the consequences of emergency actions taken by OneLogix in response to the pandemic were "substantial".
The JSE-listed niche logistics provider's CEO explained that one of the impacts included the knock-on effect of international component shortages in vehicle and truck production, with the latter affecting the group's TruckLogix and VDS businesses in particular.
"The reduction by original-equipment manufacturers (OEMs) to more conservative stock holdings resulted in a year-on-year reduction of storage revenue of about R36-million, most of which was experienced in the second half of the financial year."
Lourens said this had been compounded by the mid-year release of the group's additional vehicle storage facilities in KwaZulu-Natal – on completion of the third phase of the Umlaas road logistics hub storage facilities – contributing additional costs of R27-million in the last five months of the year.
This amount includes International Financial Reporting Standards 16 charges.
"Nonetheless, each of the 13 group companies are in good health, having weathered the protracted Covid-19 storm. Some have produced a profit improvement, while others remain inherently relevant with a strong underlying business strategy, skilful, resilient and innovative management teams together with a strong customer base that will ensure their sustainability," Lourens said.
OPERATIONAL REVIEW
In its abnormal logistics division, VDS improved its performance while TruckLogix traded congruently with the impact of a worldwide stock shortage.
Projex, operating in a tepid market, traded ahead of expectations, while the newly acquired Agritrans has been successfully integrated into the group and is benefitting from operational synergies.
In primary product logistics, Linehaul traded well despite a tapering market towards year-end, while OneLogix Jackson and OneLogix Buffelshoek delivered "satisfactory" results. OneLogix United Bulk's (UB's) results were below par; however, the group expects the restructured entity to trade well going forward.
The smaller, non-reportable other logistics services segment, meanwhile, continued its strong performance and traded according to expectations, despite unsettled markets.
FINANCIAL REVIEW
All initiatives and impacts mentioned above culminated in a decline in revenue of 6% to more than R2.4-billion across most of the group's operations, particularly within the abnormal logistics segment.
Earnings before interest, taxes, depreciation and amortisation (Ebitda) increased by 5% from R349.6-million to R366.1-million, as a result of significant and successful cost control measures implemented during the year.
OneLogix explained that these measures also resulted in an 8% decrease in operating and administration costs, excluding share-based payments and retrenchment costs. As a result, Ebitda margins increased from 13% to 15%.
The group incurred one-off retrenchment costs of R9.5-million during the year, predominantly in the VDS business within the abnormal logistics segment.
Core headline earnings per share (HEPS) and diluted core HEPS decreased by 39% to 13.6c, as the equity-settled share-based payment charge that was added back in for the prior year was not necessary this year.
Cash generated from operations before net working capital inflows, net finance costs, taxes and dividends, remained resilient, with a 1% increase to R357.8-million.
The prior year's closing net working capital outflows of R156.7-million, owing to the lockdown conditions in May 2020, were reversed at year-end, with inflows of R110.1-million once operations returned to a more typical trading environment.
The group invested R227-million in owned operational infrastructure during the year. This included a R119.7-million investment in property (of which R103.9-million related to the sale and leaseback of Umlaas Road Phase 3 development); R81.9-million in fleet (of which R56.7-million relates to expansion); R12.1-million in information technology-related assets; and R13.3-million for other assets.
Excluding the Umlaas Road Phase 3 sale and leaseback transaction, assets with a carrying value of R95.6-million (the majority at OneLogix UB) were disposed of, with proceeds of R102.8-million realised.
Net cash resources at the reporting date amounted to R417.7-million, compared with R64.5-million in May 2020.
Further, Lourens explained that, during the year, the group repurchased 3.8-million shares on the open market for a cash consideration of R9.6-million.
At an average acquisition cost of 252c a share including transaction costs, the shares that were repurchased represent 1.43% of the company's issued share capital and were cancelled and returned to authorised but unissued share capital in August.
No dividend was declared, with the board opting to preserve cash resources given uncertain market conditions.
The group's financial position and the resources available have successfully reinforced a solid platform to enable OneLogix to navigate the prevailing uncertain trading environment and will allow the group to take advantage of any growth opportunities should they arise, the company said on August 26.
OUTLOOK
Lourens said trading conditions for all group companies were likely to remain difficult for the foreseeable future.
"We are experiencing a significant decrease in vehicle stockholding volumes in our storage yards as a result of the reduced stockholding models implemented by the OEMs to navigate current trading conditions and will continue to monitor the situation closely."
He added that the group's strategy remains unaltered and that it expects acquisitive opportunities to continue.
Given the severity of the economic difficulties, OneLogix intends to continue assessing these appropriately, together with further startup opportunities.
Lourens concluded that OneLogix continues to prioritise building high-quality, high-performance teams with an enabling culture.
"Our continued and successful involvement with the international Top Employer programme provides an objective assessment as to the success of our endeavours. We therefore remain deeply appreciative to all our employees and management teams who continue to perform at the highest level of excellence despite the challenges thrown their way."