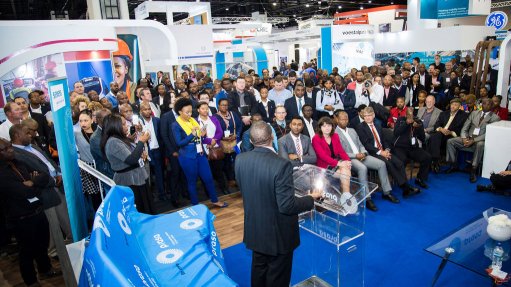 INCLUSIVE GROWTH Africa Rail provides an interactive platform for rail industry stakeholders with the view to improve railway performance and its contribution to economic development
This month, business-to-business media company Terrapinn will host the twentieth annual Africa Rail exhibition and conference at the Sandton Convention Centre in Johannesburg, Gauteng, from June 13 to 14.
Africa Rail provides an interactive platform for rail industry stakeholders to share expertise and experiences, with the view to improve railway performance and its contribution to economic develop- ment. Africa Rail focuses on the entire African continent, and will be host to over 28 African countries this year.
About 90 industry experts will address the key challenges and opportunities on the African continent and will cover topics such as, investment and funding, technology and signalling, women in rail, skills development, infrastructure, intermodal, passenger rail, safety and African railway country projects.
An expected 6 500 attendees can meet and do business with 200 exhibitors, including manufacturers and suppliers, showcasing their latest rail solutions and products.
"[A total of] 28 African countries have confirmed attendance, these include the likes of: Anesrif, Swaziland Railway, Uganda Railways Corporation, Zambia Railways, Cameroon Railways, Tazara, Nigerian Railways Corporation, Rift Valley Railways, Walvis Bay Corridor Group, Office Nationale des Chemins de Fer du Maroc and Ethiopian Railways Corporation," says Terrapinn transport project director Tarryn Theunissen.
She adds that delegates from various African Ministries of transport such as Madagascar, Niger, Senegal, Chad, Algeria, South Africa, Zambia, Togo and Namibia have confirmed their attendance.
The conference brings together all railway stakeholders in Africa to network, share ideas and promote business interests. "This event has resulted in new partnerships being formed and deals being done on site."
She mentions that clients use the event exclusively to launch products, for yearly mass-marketing campaigns and to announce partnerships because there is vast media coverage, buyers, investors and potential business partners all in one place.
"This year we have exciting announcements taking place on both days of the exhibition from GE, Passenger Rail Agency of South Africa and Transnet Engineering."
One of our themes for Africa Rail 2017 is skills development, there is a strong need for equipping individuals with the right skill set to perform the job. We will be focusing on developing human capital across the industry as well as closing the skills gap.
"We will also be inviting university graduates to attend Africa Rail to listen to seminars focused on opportunities in the railway sector."
The event highlights every aspect of rail development, including skills development. Theunissen notes that human capital expenditure has increased in the past few years, and education and training is becoming more of a priority, especially to match the most suitable competencies to the correct job requirements.
She also states that there is an increase in discussions about and implementation of promoting women in rail. "There is a definite increase of women in senior management positions as well.
"We have an entire track dedicated to women in rail, where we will hear from some of the leading women in the rail industry, who will not only share their stories but also speak about some of the opportunities as well as challenges that they are faced with in the railway sector."
Meanwhile, Theunissen says one of the challenges the rail industry faces is the slow-paced roll-out of financing for projects. This makes it more difficult to determine when projects will be completed.
Moreover, she points out that Terrapinn does extensive research to identify trends and important themes that the event should cover every year.
"We have an advisory board that consists of African rail operators, economists and consultants. We also undertake interviews during the event to get feedback and make improvements accordingly."
Theunissen mentions that Africa is not very far behind with new technologies, but it is important to consider the relevance of global trends on the continent.
Moreover, Africa Rail has become an undisputed leader offering an unrivalled platform for the continent's railway industry to come together, to learn, network and do business.
"From a small conference with a handful of exhibition stands, it now takes up two massive halls in Johannesburg and has grown to become Africa's most successful and well attended railways conference and exhibition. With consistent annual increases in attendance, its no doubt that Africa Rail is "the must-attend event in the rail industry," she concludes.