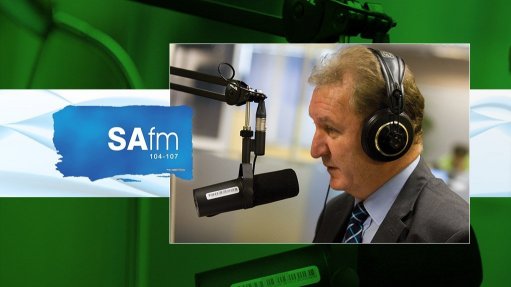 Every Friday, SAfm's radio anchor Sakina Kamwendo speaks to Martin Creamer, publishing editor of Engineering News and Mining Weekly. Reported here is this Friday's At the Coalface transcript:
Kamwendo: A new transparent coal trading platform is planned to open up Eskom coal costs for all to see.
Creamer: Coal prices have been an issue and the government has asked the suppliers of coal to Eskom to cap the coal prices. The suppliers are not happy with that. What looks like coming know is an open index. So, you have got a platform online where you will be able to see the prices of six grades of coal.
These will go up and down and the market will then determine what these prices are, which has never happened in South Africa before domestically. It is also good, because a lot of junior miners are coming in to coal supply. The bigger miners are withdrawing and they need to also know where the prices stand. From the first quarter of next year private sector companies are looking into floating these prices. I think it will be a major step in the right direction for us not doing deals behind closed doors where nobody knows what is happening.
A lot of the cost-plus type mines that we have had with 20-year price agreements, that sort of atmosphere is likely to change and we should get a market related price for Eskom at a time when the market demand is down, because the world over people are not wanting to buy coal in the same way as they use to do. So, they are cold shouldering coal and it could be to Eskom's benefit to get an index, which is fully transparent and goes up and down at which they buy their coal at the index prices.
Kamwendo: Mines the world over are taking strong steps to mitigate climate change and end carbon pollution.
Creamer: I have just been abroad on a mining tour and it is just all over how the mines are moving in very fast to have 100% recycled water, not to use any new water where they can. The whole issues of Mother Nature being protected. We see that even in one of the places the normal slimes dam kills two birds with one stone, because you have got this big expansive water and they want to save the water, but evaporation is taking the water away.
They also want renewable energy, so what they do is they float the solar panels on the water. This dramatically cuts down the evaporation and at the same time gives them 100% clean energy, which is another target. The big thing that was on the lips of everybody was this massive hydrogen truck that is being built in South Africa. This will be a world first, also to protect the earth, the trucks will be electrified using hydrogen that will be generated from sun energy and wind energy.
The emission is zero. They are building that now at Mogalakwena mine, a platinum mine in Limpopo. When I was going around South America all eyes were on that and they are saying that they will purchase that as part of a gesture to do better in the world of mitigating climate change.
Kamwendo: The Motsepe Foundation is going all out to create job opportunities for unemployed South African youth.
Creamer: This is fantastic. Patrice Motsepe with the Motsepe Foundation has roped in no less then 33 church organisations and faith organisation across the board of faith. Every faith is represented there. He has thrown in R100-million into a fund and exactly a month from today the first proposals will come through and be examined by the advisory board on sustainable jobs.
The word is sustainable. They are looking a lot into the agricultural sector where they want to create jobs for youth and we know that the youth unemployment is colossal between the ages of 16 and 25. It is like over 55%. They want to make sure that even church land is used and a lot of innovative ideas.
We know that the mines have got a lot of land, so it could be very agriculturally based across the board, but it is a wonderful gesture by the mining magnate Patrice Motsepe.
Kamwendo: Thanks very much. Martin Creamer is publishing editor of Engineering News and Mining Weekly.