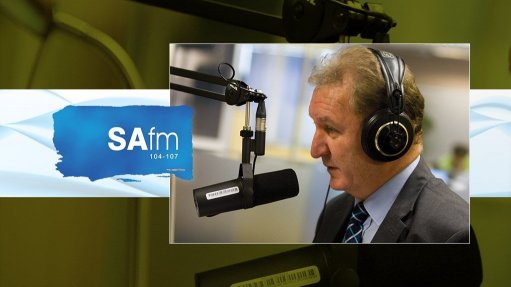 Every Friday, an SAfm radio anchor speaks to Martin Creamer, publishing editor of Engineering News & Mining Weekly. This week it was Flo Letoaba and reported here is this Friday's At the Coalface transcript:
Letoaba: South Africa's biggest mechanised gold mine is expecting to get approval to generate its own electricity before year-end.
Creamer: This is South Deep, a gold mine located west of Johannesburg, near Carletonville. It is a very big mine, a rich gold mine and it is mechanised. But, it needs electricity and it wants clean and cheap electricity, so it is going to generate its own 40 MW of solar electricity from the sun.
This will really only give it about 25% of what it needs and it will default back to the national grid at night. But it is an important first step. What is disappointing is that Gold Fields, the owner of the South Deep mine, applied many years ago and later they applied in Australia. The Australia renewables energy plant and microgrid is already up and running and proving itself, whereas when it comes to ours in South Africa ,we haven't even put a shovel in the ground yet. This is the bad side of the delay of the red tape in South Africa.
Letoaba: The decision of the Cabinet to impose a tax on the export of raw chrome will bring essential relief to our important but struggling ferrochrome industry.
Creamer: We have got a national patrimony that is called chrome. We have got more chrome in the world then anyone else. We have been blessed with this and so we decided to beneficiate, as the government has always called for benefication, which adds value. So, when you produce 1 000 tonnes of ferrochrome instead of chrome and you export it, you employ 17,5 people.
But, if you don't add that value and you don't beneficiate and you just send that raw chrome out, which is not what should be done, you only employ 5 people. But, because of Eskom they have had to send out the chrome instead of ferrochrome, which is ridiculous and it is hurting our South African people. So, the Cabinet in desperation has now tried to protect the industry and I think they have taken the right step and they have said: 'Let us tax those raw chrome exports'.
This may result in someone just wanting to buy chrome, deciding to rather buy ferrochrome, because there is a tax on the raw chrome. It probably won't be inposed for a long time, but it is an emergency now. People are going to be retrenched from these big ferrochrome plants if this does not happen. I agree with the Cabinet decision, although it is not ideal and obviously we should consider making it subject to a sunset clause.
I don't think China is going to be that upset by what we do tax wise and China is really the biggest buyer of our chrome by far as the world's biggest stainless steel producer. I think we have taken a decision and I think that the Cabinet is going to look at it. We may impose this tax, and it will be the best thing to protect us in South Africa.
Letoaba: There is growing concern that the widespread sale of coal mines will not solve the world's big carbon emissions problem.
Creamer: You get the holier-than-thou coal miners. They are big coal mining companies and they say that they are going to conform to the Paris agreement on climate change by selling off their coal mines.
They don't take any care about who is buying those coal mines from them and the people who buy them are free to do what they like, and will likely grow the coal assets. So, how does this help to lessen climate change? Our big coal miner here, Glencore, said at the Financial Times Commdity Mining Summit in London last week that this is not really helping, but what we think should be done and what we are doing is that we deplete our coal, even those in South Africa. We deplete them and never build another new coal mine.
We mine out the existing coal mines and then use the proceeds to get new generations metals, get into copper, cobalt and everything that is going to help the climate and Mother Earth and protect the environment. So, I think they make an undisputable point there that this reckless disposal by big hollier-than-thou coal miners often from Australia and elsewhere to just dispose of the problem, but they are not just kicking the can down the road but adding more cans as they go along. Smaller miners then grab these assets. They are not listed on any stock exchange, so you won't know what they are doing, so they could well allow this coal to be burnt in even greater volumes and allowing even more carbon to go into the air, which will just be worse than what we have if the mines are allowed to deplete.
I think Glencore is correct and they have got a very good argument. They are saying that they want to deplete their coal assets, keep running them down and not building new coal mines and allow their existing mines eventually to get to the point where they cease supplying. The money made from coal will then be invested in those metals and minerals that protect Mother Earth.
Letoaba: Thanks very much. Martin Creamer is publishing editor of Engineering News & Mining Weekly.