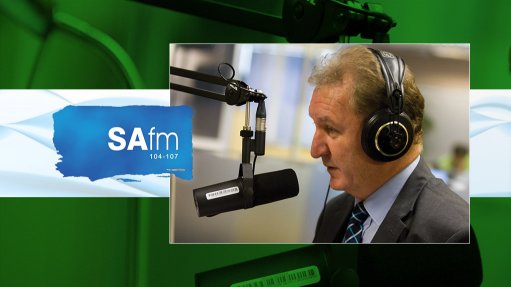 Every Friday morning, SAfm's AMLive's radio anchor Sakina Kamwendo speaks to Martin Creamer, publishing editor of Engineering News and Mining Weekly. Reported here is this Friday's At the Coalface transcript:
Kamwendo: Acid mine water must come to the rescue of Gauteng's looming water deficit – and it's a dire one.
Creamer: We had a research conference in Johannesburg this week. It was the Oppenheimer De Beers Group Research Conference and a very harsh story came up about water in our region here.
Gauteng is responsible for 60% of South African economic activity, 45% of the people live here and they say we are heading for a water deficit. They also lamented the fact that the government still has not signed on the Phase 2 of the Lesotho Highlands Water Project. This has been delayed now for six years. It seems that there is infighting around the tenders, but it is just not going ahead. The treaty has not been signed, which is very, very lamentable.
They are saying now that possibly the only quick fix on the horizon will be to deal with this acid mine drainage problem. What is happening is that wonderful water coming from the existing scheme from Lesotho, some of that water is going into diluting the acid water from the mines, which is just a sheer waste.
What they are saying is that, as agreed in 2012, they should be fixing that acid mine water at the source, before it is allowed to go anywhere. There is a preparedness to do this. If that happens immediately the quick fix will be that you release that water, that good water, that fresh water that is coming from Lesotho that is being used for dilution into the system, which is an immediate relief. So, that seems to be the first step that should be taken, very rapidly.
Of course, the Lesotho Highlands Water Project Phase 2, that decision must come, because even if that decision is taken today we will only get the full affect in 2025.
We need to move fast.
But they are saying 238 times worse than acid mine drainage is the sewage situation. The return of the sewage into the system.
They are saying that 5-billion litres of sewage a day is being generated. 4-billion of that is coming back into the system, sometimes partially treated, sometimes untreated. They say the partially treated is much worse than the untreated, because when you partially treat you only kill the weaker bacteria, you do not kill the strong.
That is a situation that they say should be turned around, where you must get the water and the phosphates out of that sewage as a strategic imperative in South Africa.
That, along with a whole lot of other steps, they say, should be taken here, because they say we are going to end up with two streams of water. We are going to have to have two sets of reticulation, not all of it is going to be potable water. That's what they see.
They also see a part privatisation along the value chain. They are saying that the same thing that happened with electricity is happening in water.
People now want uninterruptable water supplies. They are having to take steps to do that themselves. OK, the wealthy can do that, but what about the not-so-wealthy.
They are saying the wealthy are also doing incredible things. New resorts going up . . . detached themselves from all grids. People are desalinating the sea and getting their own water, doing their own electricity from sun and wind. And that can be done in the wealthier circles. But, as I was saying, what about the less wealthy, what is happening? The government needs to really take steps.
Kamwendo: That's it, isn't it? Because, if you look at desalination and the cost associated with that; energy you can still harvest, you can put some solar panels somewhere and try other means to generate energy, but we can't exactly make water.
Creamer: Also, they said you can't shed water, it can't be like load-shedding, because it depends on pressure. If you do that to the system you aggravate situations that chlorine cannot just fix. In fact, you can create carcinogenous type of activity in the water system.
Kamwendo: South Africa's vast diamond-mine properties are being turned into world-class tourist attractions.
Creamer: This was again at the Oppenheimer De Beers Group Research Conference here in Johannesburg. They drew attention again to the fact that over 100 years now massive tracts of lands have been built up around these diamond mines.
You have them in Kimberley, in the Northern Cape and crisscrossing across the country, even on the coast.
Also in Botswana now you have this vast tract of land because of the way they dealt with diamonds in the past.
From 1888 they had the pit [in Kimberley], but around the pit they used to buy up vast tracts of land, because they thought they could find more diamonds there.
But, also they needed space to let the kimberlite dry out and weather, because they didn't have the same recovery processes and crushing processes. So they've ended up with this wonderful endowment of glorious land that they are now calling the Diamond Route and they are attracting ecotourists and tourists into visiting this.
We saw at this research conference that they look at everything, they're looking at the birds, the bees, the beasts, the botany, trying to attract a high level of tourists to come into these areas to enjoy the wildlife as well.
They have introduced some very rare species into their areas. Also, naturally there is a flow and if you look at the one in Limpopo at Venetia, in that area around the diamond mine that they have protected and are conserving now, the lions came there of their own accord. The lions gave it the thumbs up and came into the area. The rhino is also there, so they don't always have to introduce all these animals. You also have the Mapungubwe Kingdom there, which adds to all the flavor.
They are saying that we have a got a 'new diamond' and they had Dr Mangosuthu Buthelezi there, because he claims that he is a lifelong conservationist. He has been doing this all his life, and with his last breath he is going to make sure that this inheritance is kept for the people, because there is so much revenue that can be generated in this if it is managed well.
Kamwendo: Last week we spoke about Hakskeen Pan and what's going on there. Now, the economy of the Northern Cape is about to receive another boost by a new zinc mine there.
Creamer: The South Africans couldn't create a zinc mine at Gamsberg near Aggeneys in the Northern Cape. The London-listed Vedanta, which is India rooted, they are achieving this.
They have done it in a different way, they are doing it incrementally, but they are doing it. There is $400-million being spent there initially, that is like R6-billion and is a big boost to the people of Aggeneys.
Already, you know the Black Mountain lead project which they have also taken over from Anglo American is looking promising from a lead point of view, because they found a lot of new lead.
But Gamsberg has always been the project that everyone said was upcoming, it has been 40 years in the making. It hasn't been turned around because there was manganese in the zinc that was causing concern. But, Vedanta have cracked the code and they are using the existing Scorpion Refinery to actually remove that manganese.
They are also looking long and saying that they are going to use the revenue stream that they get once they have the cash flow from this, to double the size of this.
Firstly, you get an opencast mine and a concentrating plant, but they are looking as well to a refinery. That will, of course, answer the beneficiation delivery that the government is looking for if they get that refinery there, which will again be an enormous expenditure.
They are saying that because there are so many renewable energy efforts around there it is probably not only going to be based on coal energy, but also on sun energy from that heat that you get in the Northern Cape.
They also want to be inclusive with this project and want to float all boats. They want to float the employer boat, the community boat and the government boat. They are saying that they are very determined to make sure that there is widespread benefit for the people of the Northern Cape and that they play into the policies of the government and look after the communities.
Kamwendo: Thanks very much. Martin Creamer is publishing editor of Engineering News and Mining Weekly.