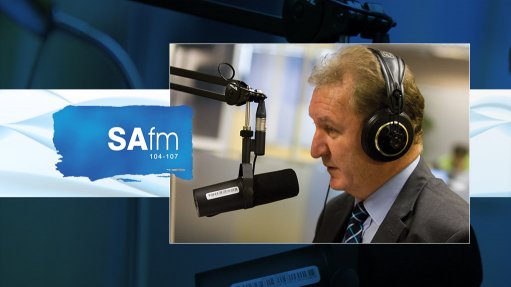 Every Friday morning, SAfm's AMLive's radio anchor Sakina Kamwendo speaks to Martin Creamer, publishing editor of Engineering News and Mining Weekly. Reported here is this Friday's At the Coalface transcript:
Kamwendo: Young black diamond cutters and polishers are hitting the high spots with amazing performances.
Creamer: This is a great report from De Beers this week - to say that the five diamond cutters and polishers that they have been grooming are really performing amazingly well. They have been at the Hong Kong show and displayed their goods there and they are performing, they say, just like a mature diamond cutter and polisher. This is an important thing and it was told to us on the sidelines of the 8th Oppenheimer De Beers Group Research Conference. That is also a very important conference. But, what this means is that in a complicated technical area, people are able to be groomed to really fulfil a beneficiation function. We know that 'b-word' tends to allude us all the time, but you find that if a big corporate actually puts its mind to this it can get success.
They said that they are absolutely amazed by the performance of these five cutters and polishers. They go to their works and see them operating. What the great thing was is that at the site holding – De Beers has these site holdings where people have to come and buy diamonds – these incipient cutters and polishers were there and they were buying and looking at the goods just like everyone else. One of the important things about being part of a big group like De Beers is that they also get access to diamonds outside the country. They are looking now at like-for-like diamonds. They get supplied by De Beers, the rough comes in from De Beers, and they have a chance of getting access to those stones mined in Botswana, Namibia and Canada. That is an important thing and we hope that they will continue to be able to get the supply. We see that in three years time the Free State mine of De Beers will be closing, the Voorspoed mine. We will be totally reliant on one big De Beers mine, which is Venetia. It will go well into the 2040s, but still, we need to see to supply.
Kamwendo: Huge concern is building up over the lack of mineral exploration in South Africa and its threat to the future of the South African mining industry.
Creamer: If you don't explore and you don't find new orebodies, you stop mining. We have been very slow on the exploration front. This whole issue came up recently when De Beers said they will not be spending their R40-million a year, because they cannot get a prospecting licence. The Department of Mineral Resources (DMR) is sitting on 54 applications from De Beers, which they just haven't approved.
It is fantastic that De Beers is prepared to go ahead, because if you look at other countries you see that governments have to incentivise people to go ahead on the exploration front. We see it in Canada with the flow-through scheme, we see it with the Premiers and all the Governors in Australia trying to push this. We know that even in Peru now we can take an example from how they have promoted exploration and in places like Chile.
People are pleading for a new approach, a new policy and a new look that actually brings in juniors to allow this exploration to go ahead, because all the geologists are saying this place is highly prospective even though we have been looking for diamonds here for 150 years, we have hardly scratched the surface. We shouldn't be seeing these posters like the I saw on the freeway the other day - a fellow holding a poster 'unemployed geologist'. We shouldn't have unemployed geologists, we should have them active. There is no reason why they shouldn't be when you see how many applications are in for prospecting, but not approved by the DMR.
So, this needs a big change of thought, because otherwise we will see the Canadians will start eating our lunch. We can see the big diamond mines now being developed in Canada and not here. They could be developed here, so the idea is please drive to get exploration done here otherwise the whole mining industry comes to an end.
Kamwendo: South Africa's only known diamond explorer is relying on funds from family and friends in Dublin, Ireland.
Creamer: Can you believe this? Normally countries incentivise exploration. We find Botswana isn't doing it and we are not doing it. Now, a company like this, we have got only one known diamond explorer called Botswana Diamonds. This needed to raise capital to come into South Africa where it has linked up with Vutomi. The money that it got to do this was from friends and family in Dublin, largely. It did have an equity raising on the AIM in London, but largely it was backed by family and friends who know how valuable this can be.
It is interesting to see one of the areas that they have picked on - Thornhill River in Limpopo - it is close to a mine that astonishingly paid for itself in three and a half working days. Now that can also be the reward that you get, so there is big risk, but also big reward. We know Marsfontein mine, and they are now drilling around there, actually paid for all its costs - that means you go right up the value curve, you are starting from the beginning, exploration and you are doing all the feasibility studies and you get to the point where you now start mining - in three and a half days. That is why you see people outside the country with experience like John Teeling from Dublin who is prepared to put his family money in here, because he knows that the rewards can be great.
So, we should realise then that this should not be happening on such a small scale, there should be more effort to make sure that we turn this to positive account and get those minerals out of the ground. That will help these young beneficiators we spoke about. You need that flow coming through. We need more of those people; because of our diamond history we go all the way along the beneficiation chain right to the cutting and polishing. The prospects are very good if we look after this industry well. The fact that people are prepared to risk their own funds on this shows how well it can reward you.
We saw that this same team that is based in Dublin and Ireland had tremendous success in Botswana. They went to the AK6 site there and De Beers had turned up its nose at this, because it was too small, only 2.5 hectares. It had a grade of about 2.5 carats per hundred ton, so they said they we don't want to do this. But with new technology suddenly this became a viable proposition and it turned into the Karowe mine, very rich. Lucara now operate that mine and they produced recently the world's biggest diamond ever - the biggest rough diamond ever and they put it on auction in global markets. I think we are missing a trick here and it is all because of the red tape inside the DMR which has to be eliminated to allow our exploration to go forward for the benefit of our mining industry without which we cannot have a mining industry.
Kamwendo: Thanks very much. Martin Creamer is publishing editor of Engineering News and Mining Weekly.