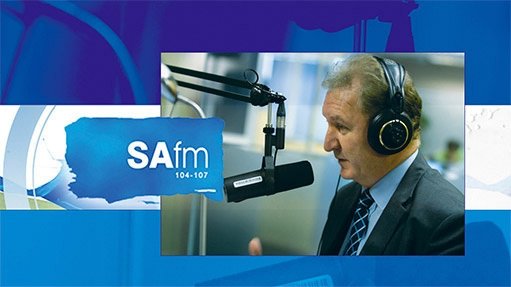 Every Friday, SAfm's radio anchor Sakina Kamwendo speaks to Martin Creamer, publishing editor of Engineering News and Mining Weekly. Reported here is this Friday's At the Coalface transcript:
Kamwendo: The enthusiasm of the private sector to generate clean, green electricity for itself is soaring to great heights.
Creamer: Every sector of the economy that I speak to these day is planning its own electricity generation. If you speak to the industrial sector, manufacturing sector, the miners, the farmers and even home owners they are saying that they are going to generate their own clean electricity. What they are not keen on are the very high tariffs that they are getting from the State supplier Eskom and the fact that Eskom is stop-start often.
The atmosphere at the moment is that we can do this cheaper, we can do it for ourselves and we can do it in a cleaner way. So, it is something that has to be taken into account by government and I think that they do realise that with the Integrated Resource Plan they have accommodated. But, they probably haven't accommodated in a way it is coming through in quite big volume.
Kamwendo: South Africa and Lesotho are continuing to collaborate in bringing more water to South Africa and more electricity to Lesotho.
Creamer: This is a fantastic arrangement of collaboration that we have and it is behind. I mean, they had the sod-turning for the second Lesotho Highlands project now, but that should really have been the commissioning of it. They are way behind and it is sad that we are behind, because we are in drought conditions and we know how important this Lesotho water is to us.
We are not getting it at the moment, because the actual tunnel that we have there has been closed for maintenance. This represents something like 27% of the Vaal's water. But, the atmosphere is good, the way the two countries were talking to each other and collaborating this week was very symbolic and very meaningful, because we need that security of water supply and they also appreciate the electricity they get from the infrastructure we set up in Lesotho, which gives them clean hydropower.
At the same time they are getting royalties from that. So, there is so much more we can do in the reach of other countries as well, and I hope that we do collaborate and really make meaningful the Southern Africa Development Community.
Kamwendo: South Africa's private sector is getting initiatives under way that help to create jobs, narrow inequality and reduce poverty.
Creamer: It is such a good atmosphere out there, the people in the private sector who are wanting to work collaboratly with government and it is all about creating more jobs. It is all about narrowing inequality and all about reducing poverty. We saw three big ones come through, Anglo American, Exxaro coming through in Limpopo, but working very close with government.
Also, bringing in the CSIR and World Vision and in this partnership they call the impact catalyst, it serves as a catalyst, because it creates so many opportunities, because as you start working on one, another presents itself. It is all in the interests of getting these jobs going. We saw Patrice Motsepe putting in R100-million, with 33 churches and faith organisations supporting and that is a flexible arrangement and a quick arrangement. It is also one of good governance, which is important in these situations where the whole aim is to create jobs, to end inequality and to reduce poverty.
Kamwendo: Thanks very much. Martin Creamer is publishing editor of Engineering News and Mining Weekly.