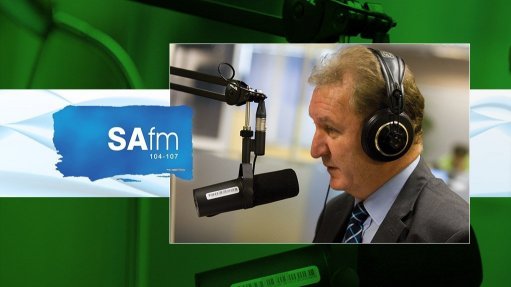 Every Friday, SAfm's radio anchor Sakina Kamwendo speaks to Martin Creamer, publishing editor of Engineering News & Mining Weekly. Reported here is this Friday's At the Coalface transcript:
Kamwendo: South Africa's ferrochrome industry is staking steps to generate 750 MW of its own electricity.
Creamer: There is an existential threat there. There is a chance that ferrochrome will be wiped out and they having to take steps now to generate their own electricity. This hasn't been possible in the past, but now permission has been given for big companies to generate their own electricity, particularly if they need to do so for competitive reasons. Of course, they are choosing not only wind and sun to do this, but also using the gases emitted in smelters to cogenerate electricity. This is going to be one of the biggest and most ambitious megawattages, 750 MW. That is quite high, but not high in relation to what they need to smelt chrome ore. I suppose they are moving gradually to try and survive as an industry. This is a benefication industry where they take raw chrome ore and turn it into ferrochrome, which has much higher value. Unfortunately, because of the high price of the electricity that Eskom has been charging, they have been losing market share to China, so they have asked the South African government to try and assist. What may happen now, is an export tax may be imposed on chrome ore being exported from South Africa to give the ferrochrome industry a chance to rebuild itself and regain its market share, which is very important for South Africa, because although this industry employees 6 000 directly, but supports 68 000 jobs in many other sectors, including anthracite mining and locally produced stainless steel. It is a big supporter of jobs beyond its own premises. It is a beneficator and adds value and we need to try and keep this ferrochrome industry going.
Kamwendo: Southern Africa was this week urged to enter the new multitrillion-dollar green hydrogen economy with vigour.
Creamer: That is right. It came through from Germany. The project manager of this green hydrogen initiative for Africa, which is West Africa and Southern Africa, was speaking from Germany and he was saying that as an African, and this is Dr Solomon Agbo, he is a scientist there and he has been given the job of project managing the development of wind and sun energy in Southern and West Africa. Germany has taken a strategic decision to turn to green hydrogen, clean hydrogen, and thus clean energy, going forward. They want start securing sources of supply. They see Southern Africa, where we are, as one of the sources. So, they are prepared to fund a study called Green Hydrogen Atlas-Africa, which aims to find out exactly where all the wind and sun energy sweet spots are, so that in time Germany can import green energy from Southern Africa. We know our hot sun in the Northern Cape is well positioned for this and so is the Coega port in the Eastern Cape. We could start exporting green hydrogen in time. It will also mean that our whole domestic economy could switch over to green hydrogen and other countries in Southern Africa, which will be really wonderful, because Southern African spend a lot of money on imported oil, petrol and diesel. We could instead of importing energy we could export energy, which would be a marvellous benefit for the Southern African economy.
Kamwendo: Gauteng's rich South Deep gold mine is entering a new high-technology phase.
Creamer: We have got a fantastic gold mine in Gauteng, it is in western Gauteng, near Carletonville, and it is called South Deep. This has got one of the biggest gold orebodies in the world. It has got another 75 years of life in it. Suddenly, it is coming to its own very strongly and its results in the last three months were very competitive. It is making good profits and producing at a high rate. But, Johannesburg Stock Exchange company Gold Fields wants it to produce even better. It is an underground mine, which is mechanised – and we don't have many of those in South Africa – it is also a mine that wants to add more and more new technology. It is looking for remote control and monitoring from surface, doing a lot of activities from surface that control what is going on underground. In this way it will come up to speed with what happens in the Gold Fields group around the world, particularly in Australia, where they generally have more advanced technology than South Africa does and make better profits. So, the idea now is to lift us into a situation in which South Deep gold mine could be put on par with world benchmark technologies, so that its output can become even more efficient and its profits even higher. This will be a benefit to our region, here in Gauteng.
Kamwendo: Thanks very much. Martin Creamer is publishing editor of Engineering News & Mining Weekly.