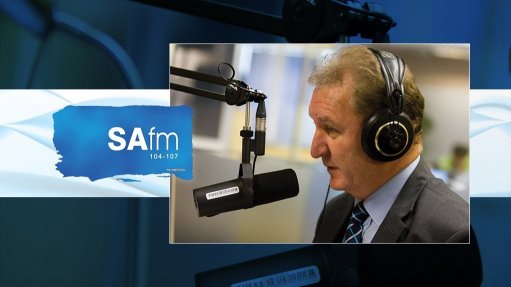 Every Friday, SAfm's radio anchor Jon Gericke speaks to Martin Creamer, publishing editor of Engineering News and Mining Weekly. Reported here is this Friday's At the Coalface transcript:
Gericke: South Africa's leading coal mining company yesterday confirmed its strong entry into the renewable energy business.
Creamer: This is Exxaro and this an exemplary company, because they are big in coal mining and obviously you don't want to upset your coal mining for renewables and sun energy. But, they have been far sighted. They have seen the future and have announced this week that they will be the 100% owner of Cennergi and that they are going to go dramatically into sun and wind energy. That is great news for South Africa, because you wonder how there is going to be a just transition from coal mining where a lot of mining people are employed. How are you then going to transition them into the world of sun power and wind power and is that going to be enough? It won't be enough, so they are already starting to develop ahead of the closure of their coal mines they will be preparing for different enterprises. They put R170-million into enterprises and created 783 jobs already by creating enterprises around their communities, so that you have an infinite horizon. When their horizon drops with coal mining, we have the infinite horizon of wind and sun, but also people working around these mines.
Gericke: I was going to say its job creation, we always hear that renewable energy will lose jobs, but you say that they are going to create jobs.
Creamer: This is a company that really has studied this and this is Mxolisi Mgojo. He leads this company. He doesn't only lead this company, he leads South African mining. He is Minerals Council South Africa's leader. He has been working on this for a long time and is very conscious about how you transition justly. That is very big on the minds of people and they will make sure it happens.
Gericke: Royal Bafokeng Platinum has a policy of giving all its employees the opportunity to fund their own dignified homes.
Creamer: This is about dignified homes that they are talking about. We are seeing that when it comes to homes, you can have hostel, you can have accommodation. They do not believe in that, they have three bedroomed homes. We are talking now about Royal Bafokeng. The Bafokeng community has been incredibly exemplary in owning their land and then finding that they have got a treasure test beneath them of wonderful metals and minerals called platinum-group metals (PGM's).
Gericke: Let's talk about coronavirus in mining.
Creamer: The impact of coronavirus is here, the impact of coronavirus is there, the impact of coronavirus is everywhere, even underground with our metals and minerals. We are the leading producer of manganese and chrome and those prices have already hit. They are going to be drastically hit, that is the news coming through from the industry saying that captains of ships have been refusing to take in manganese and metals and minerals on their ships. The crews have been rebelling saying that they are not going to. When they have landed the stockpiles build. When you say why aren't these stockpiles depleted they say that they can't get these metals through the steel mills. When steel mills stop producing, you have no demand for some of our exemplary metals and when that happens the price falls. When the price falls you hit the Northern Cape and these various areas who rely now after years of hardship on some good money, all of a sudden in the short term, hopefully not on the long term. It could have medium term impact in that you have the same taxes and money to spend, because South Africa has been hit by the coronavirus.
Gericke: China seems to be plateauing with the coronavirus less and less. When you say medium term, what sort of time period are you looking?
Creamer: We are hoping when we talk medium term you don't even want to talk over two quarters. Short-term is a quarter, so that is a three month period. Seeing that in China it might be getting a bit better, but it is starting to jump around all around the world, which is scaring people.
Gericke: There is a platinum coin, is that the same as the Krugerrand?
Creamer: Well look, that Krugerrand was the most successful coin on earth. You sold as many tonnes there as in Fort Knox and that is local tonnes, over 60 years, 60-million pieces. Now, they are looking at the futures metal, a climate change metal, a platinum-group metals. They are now launching the Big Five in platinum and they are hoping that they are going to flatten them with platinum. Starting off with the elephant and then it is going to the lion, rhino, leopard and buffalo. We are going to have these in six-monthly intervals and coming in at a very affordable range. We are hoping as the platinum price starts jumping you can see people benefiting even ordinary people.
Gericke: What is that price like compared to the Krugerrands?
Creamer: The Krugerrands are way up there, this is at a R20 level at the moment. It is very moderate. So, they are bringing it in at a price where platinum is not doing well and if you get in on the ground floor it is going to be the way to get into this and get used to it. We hope South Africans do this, because this is a national patrimony. Our platinum-group metals is our national patrimony. We have had platinum slow getting along, price hasn't been good, but it causes huge confusion because of climate change. There is still a massive pool for palladium and rhodium. You mine that at the same time, but your demand for palladium and radium shoots and then your platinum lies. They are trying to balance this and introduced a new technology this week, saying that we will have trimetals, because these metals stop all the pollution of the world in the big cities, because they get into your catalytic converters and they don't allow their carbon to come through and all the nasties to come through. Platinum hasn't been in the petrol engine, it has been in the diesel and because there is a swing to petrol now with the trimetal solution with platinum also there.
Gericke: Does the platinum coin have a cool name yet?
Creamer: It doesn't have a cool name, but they are calling it The Big Five.
Gericke: Thanks very much. Martin Creamer is publishing editor of Engineering News and Mining Weekly.