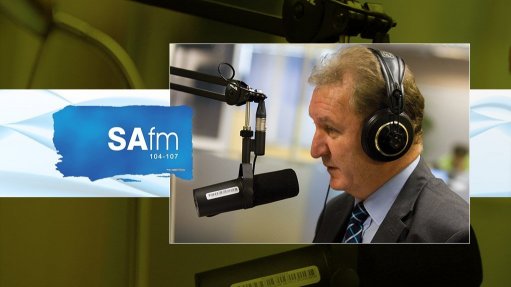 Every Friday, SAfm's radio anchor Sakina Kamwendo speaks to Martin Creamer, publishing editor of Engineering News and Mining Weekly. Reported here is this Friday's At the Coalface transcript:
Kamwendo: Eskom's electricity transmission network needs to be expanded fast to accommodate the influx of clean solar energy.
Creamer: The new Integrated Resource Plan (IRP) gives more capacity for clean solar power and wind power. If you look at the actual transmission grid, you realise that there has to be expansion of this to accommodate what should be coming in as clean energy. I think the awareness level of that is quite high at the moment.
They do know that it would require a big investment close to R100-billion and that is the problem, because there is spare capacity in certain areas of the grid that do not have a great potential to give you a lot of solar power and wind power. They may have to take out that capacity first before they move to the very hot areas of the very hot windy areas of the Northern Cape, Western Cape and Eastern Cape. So, it is sort of a toss-up between what they can do. You know that the world is just demanding this clean energy at the moment.
If the country doesn't move towards being climate positive there are going to be repercussions on the trade front. I think with the IRP already in place, we will move in that direction, but the problem is we need to accelerate it. We know that Eskom is being split into three and there is separate management now for the transmission grid, so the awareness level is high.
Kamwendo: South Africa's status as the ideal venue to set a new world land speed record as been uplifted with the completion of trial runs in the Northern Cape.
Creamer: Yes, we have been hoping for this Bloodhound land speed record now for close to seven years. They have been talking about the Northern Cape as being the ideal place. Fortunately, they have actually prepared that very well. They have even gone through the trial runs now in the Northern Cape.
We have had more then 300 people of the Northern Cape employed to set that surface correct. What they are obviously trying to make sure we do now, is to go faster than 1 227.9 km per hour, because that is the world record in terms of kilometres. Of course, it is something like 537 miles per hour, so they are targeting 760 miles per hour. That Bloodhound record set by Andy Green 1997 has been at the seat for a long time, but the funds haven't always been there. We see that this project is going to cost something like R550-million.
It is wonderful to be hosting this in South Africa, in the Northern Cape. What we are talking about is not just a car, it is like a combination between a car, aircraft and spaceship and it is going to attract a lot of attention if this record, hopefully is broken on South African soil.
Kamwendo: Anglo American's plan to transport its workers to and from work in Chile is a climate-positive step.
Creamer: I think climate-positivity is being sought by everyone and the electrification of the world is on the go. We see that although the roots of Anglo American are deep in South Africa, their tree and their branches go far and they even extend out to Chile and Peru.
When they had journalists in Chile and Peru recently from South Africa and the world they made the announcement that they want to move their workers to and from with busses that are electrified. That will be a very positive step for a climate point of view. What did sort of set us back from a South African point of view is that they weren't going to use the fuel cell at this stage, they are going to go ahead with normal battery electric vehicle that, of course, is not as holistic as what we are looking for in South Africa, to not only have the clean energy, but also have the hydrogen that can drive these cars without a speck of emission and it will also use a lot of platinum, which is our hope, of course. That will come in time, but initially it is going to be the normal electric battery driven busses.
Kamwendo: Thanks very much. Martin Creamer is publishing editor of Engineering News and Mining Weekly.