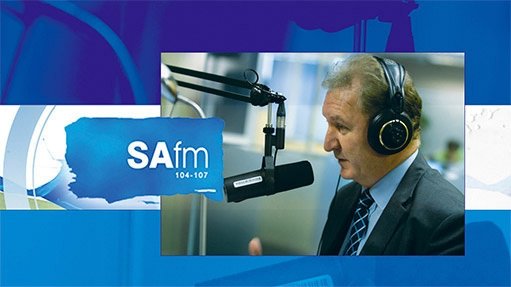 Every Friday, SAfm's radio anchor Sakina Kamwendo speaks to Martin Creamer, publishing editor of Engineering News and Mining Weekly. Reported here is this Friday's At the Coalface transcript:
Kamwendo: Minerals Minister Gwede Mantashe this week reiterated South Africa's full commitment to honouring its climate-change undertakings.
Creamer: Yes, next week the Integrated Resource Plan (IRP) gets presented and we are looking forward to seeing some extra effort in the renewables space. We want our sun and wind to give us the benefits that can add to the economy. We see it in other countries, particularly California, and the Minister said that he was fully committed to the undertakings of climate.
Obviously there are a lot of aspects to this. There is coal that still has to come through, as well as gas, and he is talking about gas also being a game changer. But, in that sun and wind space there is tremendous potential and we are looking forward to Minister Gwede Mantashe giving that full motivation.
Kamwendo: New technology is available to turn South Africa's mining industry back into a sunrise industry that is much safer.
Creamer: The safety is also very important, but we see a whole myriad of technologies now available. This came out at the Joburg Indaba and was made clear that we can make this industry a sunrise industry. We can get to those areas that are unsafe to mine at this point, but with technology they will be safe to mine. That is a great wealth creator and also a job creator, which is just what South Africa needs at the moment.
Kamwendo: Environment Minister Barbara Creecy says South Africa is well placed to be taking advantage of the hydrogen fuel economy.
Creamer: Yes, this is coming through more regularly now at higher level globally and at the highest levels in South Africa. People are acknowledging that our sun and wind can give us hydrogen. Hydrogen is the clean, green fuel that the world is looking for.
We see the transport pollution is so colossal and a lot of the investment analysts at the Joburg Indaba this week made it very clear that they are not allowed to invest in anything that contradicts with what they call ESG. The 'e' is the environment and if anything is climate negative their clients will not allow them to invest. That is a huge warning to the people of South Africa, because if we don't clean up our act, we won't get foreign investment.
Kamwendo: Thanks very much. Martin Creamer is publishing editor of Engineering News and Mining Weekly.