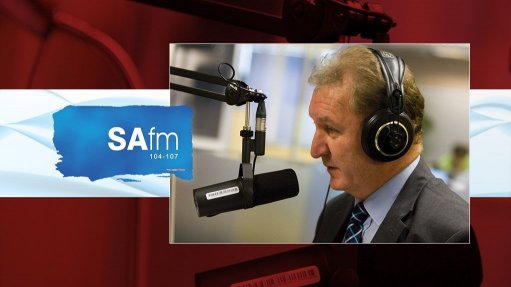 Every Friday, SAfm's radio anchor Sakina Kamwendo speaks to Martin Creamer, publishing editor of Engineering News & Mining Weekly. Reported here is this Friday's At the Coalface transcript:
Kamwendo: AngloGold has handed over two of its mine hospitals to the government for use by Covid-19 patients. Tells us more.
Creamer: Corporate patriotism is reigning supreme at the moment. The corporate companies are giving and they're giving big. One of them is AngloGold Ashanti and this company has handed over its two mine hospitals. One is a 270-bed hospital in North West province, which is a running hospital and run very well. It has been handed over to the authorities for Covid-19.
The other one is in Carletonville, the West Wits Hospital. That is a 300-bed hospital and it was closed for a while, but they are reopening it now and also handing it over to the authorities. They don't stop there, they looked at the water needs particularly around hand washing and they looked at what they do in Ghana, in particular free-standing 1 000 litre water tanks. They have quickly had those manufactured in South Africa and spread them to five provinces, particularly at taxi ranks where there is often a shortage of hand hygiene opportunity.
Then they have given R20-million to the Solidarity Response Fund for Covid-19 and put out thousands of care parcels to disabled and elderly people, made up of groceries and hand-wash and also information about what Covid-19 is about in booklet form. It doesn't end there. They have also gone to Bara Hospital in Soweto, the Chris Hani Baragwanath Hospital, and donated 27 electronic intensive-care beds for Covid-19 patient and 24 mobile toilets.
Kamwendo: Post Covid-19, the mining industry is offering to play a major role to re-stabilise the South African economy.
Creamer: Minerals Council South Africa has put out a good document saying that the mines have the assets that can re-stabilise our economy, which has really collapsed and been downgraded by Moody's and been on the receiving end of all sorts of negative impacts. They are saying that they want to work very closely with the government post-coronavirus, because of the pent-up investment opportunities that are already to be had in mining.
They are saying that if red tape is cut, they can move very fast with self-generation of clean electricity, which will create a whole new round of economic activity. They can also move into new growth areas, because they have been holding back because of the non-competitive economic environment. They are saying that if they can work as closely with the government in mining as South Africa is working on Covid-19 together there will be a tremendous stability of the economy and they could start helping to grow it significantly.
Kamwendo: World health needs to heal itself after this health crisis in the same way as world banking healed itself after the world-banking crisis of 2008.
Creamer: After 2008, the world realised that bank regulations were to lax and they decreed that banks would in future have to keep more capital and ensure more liquidity. They brought in Basel, which is now Basel 3. It is a regulatory arrangement that says to banks they're not doing enough and have got to do better.
Of course, the banks kicked and screamed at the time, but what if that had not happened? Now, with Covid-19 we see the resilience of banks, we see banks reporting adequacy when it comes to capital. We are seeing banks reporting of good liquidity levels. We see the banks saying that were not in a financial crisis with Covid-19, this is a health crisis. We know that this sort of health crisis can pop up again if the world does not do something about picking up on health.
So, we're hoping that this crisis will make sure that health and environmental protection authorities will be mandated to stop air pollution, stop vehicle emissions, stop water pollution, stop marine degradation and make sure that we all produce clean electricity. If vested interests kick and scream, in the same way as the banks did over Basel, that must not stop the world from making this a cleaner planet.
Kamwendo: Thanks very much. Martin Creamer is publishing editor of Engineering News & Mining Weekly and he'll be back at the Coalface at the same time next Friday.