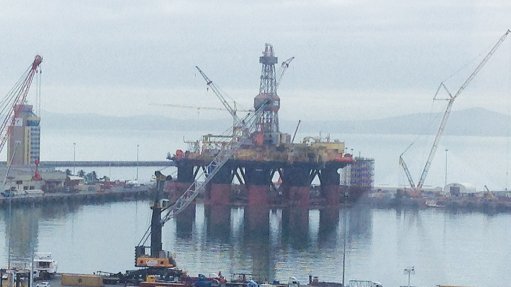 Cape Town-based chemicals industry training centre AOOG company coordinator Nicole Smithdorf would like more South Africans to enrol for training at the centre, as he predicts an end to the current oil slump in 2016, leaving the industry in need of trained personnel to work on offshore platforms.
The centre plans to attract more South Africans, especially those from previously disadvantaged backgrounds.
Smithdorf says there has been an alarming decrease in the number of citizens wanting to enter the offshore oil and gas industry by enrolling for training at AOOG.
South African citizens need to be made aware of the benefits and lifestyle associated with working on offshore oil and gas projects.
Citizens from other African nations are taking advantage of the benefits, such as significant salaries and offshore lifestyles, and this is becoming evident through the number of foreigners participating in our programmes.
Smithdorf says there might be onshore gas possibilities with many petrochemicals companies, such as lead exploration oil company, exploring South Africa for new and substantial reserves in the Karoo.
Entry-level oil and gas personnel receive significant salaries, and the prospect of working for chemicals, petrochemicals and gas companies offers adventure for those seeking a thrill and a steady job.
AOOG offers many courses for offshore oil and gas workers, most notably its Roustabout course for semi-skilled workers or ìgreen hands, also known as new labourers.
The first module of the course covers the basics of oil and gas resources, detailing how they are formed and the drilling methods involved in their exploitation.
The second module covers safety and offshore work ethics, including mitigating and identifying risk, work ethics and a case study of the Piper Alpha disaster, during which the Piper drilling platform caught fire in 1988.
Module three covers more safety standards, such as the control of substances that are hazardous to a workerís health, high-pressure spray-equipment use and procedures, working over open sea and the procedures involved, as well as working at heights.
The final course module covers helicopter safety and procedures, including typical helicopter operations at sea, potential duties associated with helicopters as a worker to the offshore environment, and helicopter and helideck emergency systems and controls.
The Roustabout course also covers rigging and slinging operations, which includes the operability of lifting equipment and the safe use of slinging equipment.
Occupational health and safety also forms a cornerstone of the Roustabout training, providing insight into how to interpret health and safety regulations and procedures through basic offshore safety-induction and emergency training.
AOOG is a Chieta-accredited training provider, making it a National Qualifications Framework (NQF) registered training provider.
Certification can be provided for national certificates in mechanical handling (rigging) from NQF Level 2 to NQF Level 3, further education and training certificates in mechanical handling (rigging) at NQF Level 4 and mechanics of chemical rigging, from NQF Level 3 to NQF Level 4.