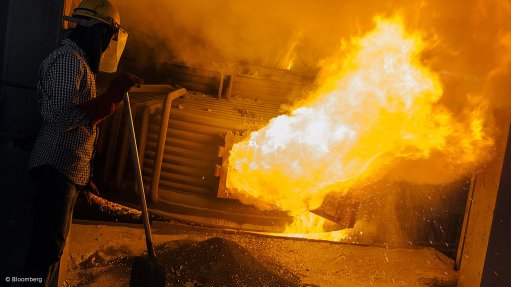 KEY INPUT Coking coal is used to create coke, one of the key input components for the production of steel, which is the key element of blast furnace operations
Photo by: Bloomberg
There are plenty of new and dormant coal projects in Zimbabwe, which can help improve the economy of Zimbabwe, says senior coal analyst Xavier Prévost.
Zimbabwe has abundant coal resources of a high quality, as some contain coking coal, which is usually available and also the most expensive kind of coal available, he points out.
Coking coal is used to create coke, one of the key input components for the production of steel, which is the key element of blast furnace operations.
Prévost, however, believes that investors are still waiting for the final outcome of the country's elections to be sure that their investments will be secure. He claims that, while the mining developments are portrayed as lucrative by the media, there seems to be a delay in coal investors entering the market.
According to news agency Reuters, Zimbabwe Minister of Mines and Mining Development Winston Chitando noted at an investment conference in March that Zimbabwe had attracted about $300-million to its coal industry, which will quadruple production next year, compared with 2017.
Chitando also told investors that coal output in Zimbabwe would reach more than eight-million tonnes next year, compared with around two-million tonnes in 2017.
Prévost states that it is worrying that finances, although they are supposed to become available now, somehow are not.
Nevertheless, he agrees with the notion that it appears as if Zimbabwe President Emmerson Mnangagwa is serious about improving the mining industry and various associated commodities, with coal being one of them.
"There is potential growth in the coal industry in Zimbabwe, but a bit more must be done to assure potential investors to invest in the industry. The people of Zimbabwe have waited long for change and hope to see this under Mnangagwa's reign."
Although change is evident, Prévost asserts that Zimbabwe has to overcome the effects of many years of neglect under the previous government. "To repair the damage caused to the economy will take many more years. I can only say that the potential growth is outstanding and to make this a reality, the government in Zimbabwe has to do a bit more to assure investors of the future of the industry," he says.
Meanwhile, the largest privately owned mining company in Zimbabwe, Makomo Resources, believes that when coal seams are near the surface, it may be economical to extract the coal using opencast mining methods, which recover a greater proportion of the coal deposit than underground methods.
The company supplies coal from its opencast operations by road to the Hwange power station. Makomo's location makes it easy to transport coal for distribution to power stations, as well as industrial and agriculture sectors.
Zimbabwe's plan to improve its economy by seeking investors for the mining industry is not that straight- forward, says Prévost. Investors are weary and constantly watching Zimbabwe's every move, specifically in the post-election environment. If Mnangagwa can convince more investors of Zimbabwe's serious plans to improve its economy, there will be hope for the country, he concludes.