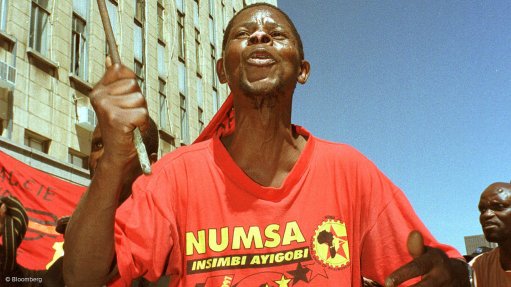 Photo by: Bloomberg
The National Union of Metalworkers of South Africa (Numsa) has called for the issue of a certificate of non-resolution amid its deadlock with the Steel and Engineering Industries Federation of Southern Africa (Seifsa).
The parties have been meeting with other trade unions and the Metal and Engineering Industries Bargaining Council, under the auspices of the Commission for Conciliation, Mediation and Arbitration, but have not come to an agreement over the proposed wage offer from Seifsa.
Numsa declared its dispute against all the employer organisations – mostly represented by Seifsa – on July 29, while Seifsa declared a counter dispute with Numsa on August 2.
The union also started with nationwide demonstrations on August 23, but is inching closer to picketing action.
Seifsa first made a wage offer on July 28, during which other trade unions indicated a willingness to accept the offer, but Numsa deems the offer – with its special phase-in dispensation that allows certain employers to pay employees less than a new minimum rate – as a breeding ground for dismissals and lower pay.
Notably, the certificate of non-resolution does not automatically trigger the issuing of the 48 hours' notice of intended strike action; Numsa has to formulate a strike notice and formally serve it on Seifsa and other employer associations.
Numsa has indicated a willingness to meet with all employers in a final push to find common ground, while Seifa's appointed negotiating team says it will take up the offer.
Seifsa stresses that industrial action will be in no one's best interest.