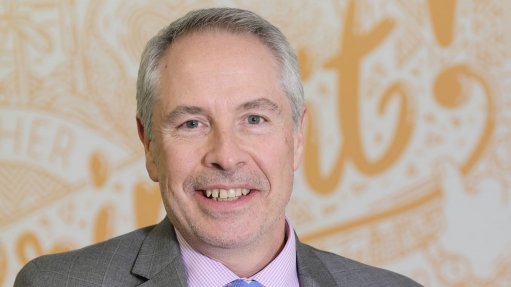 ROBERT FISH The costs associated with constructing the necessary infrastructure added to the costs of importing most of the nuclear technology, fuel and materials, will incur large amounts of debt
Implementing a nuclear build programme in South Africa would be extremely difficult because of the associated expenses as well as the controversy surrounding nuclear power, says financial services company Thomson Reuters.
"Globally, government decisions regarding nuclear programmes are delayed and often deferred to incoming administrations because it's too big a decision to make, especially in light of public concerns relating to costs and safety," says Thomson Reuters Africa supply chain and commodities head Robert Fish.
He states that, globally, there has hardly ever been a nuclear build that has been completed on time and within budget. Further, he notes that African countries already struggle to build oil refineries, and that embarking on a nuclear build programme is, 12 times more complex than building and maintaining a refinery.
Fish notes that the costs associated with constructing the necessary infrastructure – including the establishment of transmission infrastructure as well as labour costs – added to the costs of importing most of the nuclear technology, fuel and materials, will incur large amounts of debt.
Additionally, financing the project and its resulting foreign currency denominated debt would, in light of recent reviews by ratings agencies, prove difficult.
Fish comments that, although the ultimate cost of the nuclear build is important, "one should also ask, 'how much has the nuclear build programme already cost us?'", citing ratings agency Fitch Ratings' decision to downgrade the sovereign credit rating and its likely impact on the South African economy. He explains that the downgrade was partially owing to Fitch's concerns regarding the proposed nuclear deal.
Fish adds that many nuclear reactors have had some sort of safety incident, noting that the major ones that come to mind are Fukushima, in Japan, and Chernobyl, in what is now Ukraine. However, he stresses that less publicised and smaller incidents such as radiation leaks and technical malfunctions occur semi-frequently, with both Koeberg and Pelindaba experiencing such incidents in the recent past.
The lack of public support is also concerning, says Fish, noting that a deal has yet to be signed with a court case challenging the nuclear procurement process having recently been heard. The case was heard before the Cape Town High Court on February 22 and judgment handed down on April 26.
Environmental organisations Earthlife Africa Johannesburg and South African Faith Communities' Environment Institute approached the court in December to legally challenge the South African government's nuclear procurement process.
Earthlife notes on its website that, in the initial hearing on December 13, the court was "disquieted" by the signing of a Section 34 determination for 9 600 MW of nuclear power by then Minister of Energy Tina Joemat-Pettersson.
The website states: "The Court stressed in its judgment that there was no evidence presented to the court explaining how this determination came about, when it was decided upon and the processes leading thereto, despite the determination apparently having been made more than a week before the hearing." The State was ordered to pay punitive costs, while the case was postponed until February 22.
In the court's judgment, it set aside this and a previous determination, as well as the request for information for the nuclear new build programme issued by State-owned power utility Eskom in December.
Fish points out that, "while many will welcome the decision, particularly with regard to ensuring Parliamentary involvement and endorsement, there is still the distinct possibility that government will appeal the decision", ensuring that questions around the country's future energy mix remain unresolved.
Alternatives
"In a country where one in four people do not have access to electricity, the focus should be increasing access relatively quickly and not on build programmes that will take 15 to 20 years to complete," notes Fish.
He says in terms of quick and effective electrification, renewables technologies are vastly superior. "A new coal-fired power station takes about eight to ten years to complete, a nuclear programme is almost double that, with a bare minimum of 15 years. Renewables plants take between four and six years to complete. That's a quarter of the time it will take to build a nuclear reactor."
Further, he notes that the cost/kilowatt hour for renewable technology has been "exponentially" reduced, and that innovation in this sector is unparalleled, noting that, since 2011, the number of patents for hydro- and wave energy-related inventions have increased by 82%, with solar-related patents increasing at a similar rate.
He advocates for the use of renewable microgrids, compact, standalone renewable power generators that service small towns or communities. Fish notes that aside from the fact that they would be more cost effective and faster to implement, microgrids would also negate some of the problems plaguing conventional power stations. He cites, for example, problems with transmission, noting that, currently, a large percentage of power is lost during transmission, which would not be the case with a renewable microgrid, as it would be servicing the community where it is directly located.
Gas is a common co-source of power for utility-scale power provision when renewable power makes up a component of electricity generating capacity. Fish notes that, while the large gas find in neighbouring Mozambique is too big to be ignored, he cautions that South Africa would still have to import the gas from producers. As such, he suggests that hybrid gas and renewables plants may be the solution, as it will limit the amount of gas consumed.
Further, he notes that were government to proceed with the stated intent regarding new build nuclear stations, it should focus on smaller, modular reactors such as those being implemented in the US. He notes that light water reactors produce less than 500 MW, and that it may prove more feasible to focus on smaller, more cost-effective nuclear power generation.