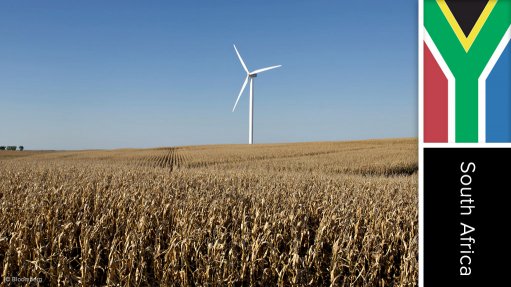 Name and Location
Noupoort Wind Farm project, the Northern Cape, South Africa.
Client
The project is being developed by a consortium comprising Lekela Power, a 60:40 joint venture between Actis and Mainstream Renewable Power, Thebe Investment Corporation, Old Mutual's IDEAS Managed Fund, Futuregrowth Asset Management, and Genesis Eco-Energy in partnership with Lereko Metier Sustainable Capital and local community trusts.
Project Description
The project will consist of 35 wind turbines, with an output of 80 MW and a turbine capacity of 2.3 MW each, as well as a substation and 10-km-long 132 kV transmission line.
The wind farm is expected to generate about 305 000 MWh/y of clean, renewable energy for the national grid.When operating at full capacity, it is expected to supply enough green electricity to power about 70 000 average South African homes and prevent about 300 000 t/y of carbon emissions.
The project is one of the first to start construction as part of the third round of the Renewable Energy Independent Producer Power Procurement Programme and is being built on an undeveloped site surrounding a small rural community, situated 11 m from State-owned power utility Eskom's 132 kV overhead transmission line, which the wind farm will feed into.
Value
R1.9-billion.
The debt for the project has been arranged and underwritten by Barclays and the Development Bank of Southern Africa.
Duration
The wind farm is expected to start commercial operation by mid-2016.
Latest Developments
Following 315 abnormal-load trips, project manager for the Noupoort project Martina Flanagan has reported that all of the 100-m-tall Siemens turbines have been installed and that commissioning has started, with commercial operation expected to start in July.
The wind farm has also been connected to the Eskom grid.
Key Contracts and Suppliers
Siemens Wind Power (wind turbines), GRI – Renewable Industries (turbine towers) and Murray & Roberts Construction; Consolidated Power Projects (civil and electrical work); Fairwind and BMS (subcontractors).
On Budget and on Time?
The project is on schedule and within budget.
Contact Details for Project Information
Lekela Power, email info@lekela.com.Siemens Wind Power, Cordula Ressing, tel +49 91 31 18 3700 or
email cordula.ressing@siemens.com.
Murray & Roberts Construction, tel +27 11 456 1000, fax +27 11 590 5474 or email info.construction@murrob.com.
Consolidated Power Projects, tel +27 11 805 4281, fax +27 11 805 1132 or email conco@concogrp.com.
GRI – Renewable Industries, tel +34 91 379 19 00, fax +34 91 172 61 83 or email info@gri.com.es.
Fairwind, email mail@fairwind.dk.BMS, tel +45 70 137 138 or email mail@bms.dk.