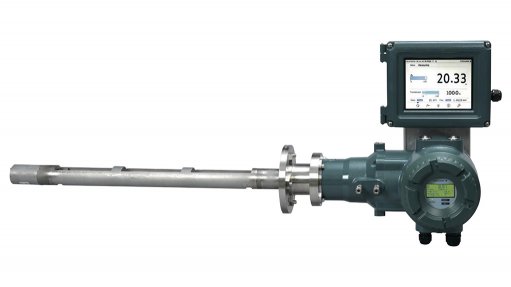 The Yokogawa TDLS8100 is designed for in situ measurements
A non-contacting sensor designed for in situ measurements eliminates the need for sample extraction and conditioning and allows for a variety of process types including corrosive, abrasive and condensing gases.
Yokogawa affirms that its TDLS8100 sensor houses all of the industry's leading features in one robust device and it has the ability to directly measure oxygen, carbon monoxide or methane gas concentration at high speeds.
The TDLS8100 probe type tunable diode laser spectrometer is targeted for applications in the oil, petrochemical, power and iron and steel industries, amongst others.
With the addition of the sensor, Yokogawa asserts that it will be able to provide customers with a greater range of choices on solutions that can help ensure safe operations and maximise energy efficiency. The TDLS8100 is part of the company's range of devices, that includes the TDLS8000 tunable diode laser spectrometer for high-temperature and high-pressure gas concentration measurement applications. It is intended for use in the measurement of flowing gases where there is a need to reduce installation costs by eliminating the need for scaffolding required on traditional installations.
These gas analysers are used in process plants to optimise combustion control and to obtain data on oxygen and carbon monoxide gas concentrations, needed to optimise the air-fuel ratio and thereby reducing energy consumption and helping to ensure safety and compliance with environmental regulations.
Various types of oxygen gas analysers such as zirconia, infrared, paramagnetic and laser gas analysers are currently in use. Laser gas analysers can directly measure the concentrations of gases such as oxygen, carbon monoxide, carbon dioxide and ammonia that are absorbed in the near-infrared region. These measurements can all be done at high speeds.
An additional benefit of the analysers is that they do not require sampling systems and achieve superior repeatability and linearity, explains the company.
The TDLS8100 uses the spectrum area method to calculate gas concentrations from the area in a light absorption distribution chart. Stable measurements are thus achieved even in environments where gas pressure and temperature fluctuate and where other types of gas dust are present.
Although the TDLS8100 is a probe type instrument, it is able to withstand vibration as its optical components are designed to maintain a stable laser optical axis and light path length, or length of transmission of laser light through a measurement sample, for long periods of time.
Additional features include:
SIL2, TruePeak direct absorption spectroscopy combined with smart laser technology

Achieved by calculating the area of the absorbance peak; the measurement is not affected by changes of the peak shape owing to background gases
Fully field repairable
Continuous diagnostics and 50 days of data storage
Laser module is replaceable on site without any calibration or adjustment
Internal reference cell in the laser module ensures peak locking during trace measurement – only for oxygen and carbon monoxide
Laser and detector modules are sealed to protect against ingress
Onboard diagnostics and no moving parts contribute to low total cost of ownership

Large intuitive touchscreen human-machine interface

Provides easy operation and control of up to four analysers at the same time

HART and Modbus transmission control protocol communications standard
8-stage auto-gain

Adapts to difficult applications and enables wide signal ranges against dynamic variation of transmission

Compact, rugged design for ease of installation and improved wear

Approvals include, FM for the US and Canada, IECEx, ATEX hazardous area, Korea, NEPSI and local IA, based on explosion-proof and flame-proof specifications

In-situ analysis and fast response – optional two seconds, one second
Process temperatures up to 600 °C
Process pressures up to 500 kPa absolute
Process gas flow velocity 1 m/s or more
Maximum process temperatures and pressures vary by application