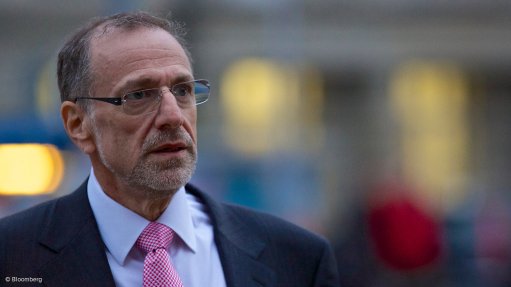 Niron Metals' Mick Davis
Photo by: Bloomberg
JOHANNESBURG – Niron Metals, headed by Mick Davis, on Monday confirmed in an email to Mining Weekly Online that a settlement had been reached between Guinea and Niron on mining concessions and licences.
Reuters earlier on Monday quoted a BSG Resources (BSGR) spokesperson as saying that Niron would develop Guinea's Zogota iron-ore deposit. BSGR previously held the Zogota mining rights.
Output from the mine will be transported by rail and exported via a port in neighbouring Liberia, spokesperson Bobby Morse told Reuters.
Niron told Mining Weekly Online that it believed the Zogota deposit could be brought into production on an accelerated timetable, thereby helping to unlock the potential of Guinea's "rich resources" for the benefit of all stakeholders, including the government and the people of Guinea.
The settlement announcement, Niron noted, had paved the way for the creation of an effective mining partnership between Niron and the government to mine the Zogota iron-ore deposit.
"The company looks forward to bringing this to fruition subject the satisfactory settlement of all disputes between the parties," said Niron, adding that a further announcement would be made in due course, if appropriate.