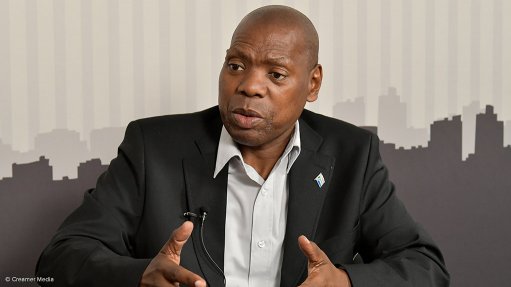 Health Minister Zweli Mkhize
Photo by: Creamer Media's Christo Greyling
South Africa is "one step closer" to quality health care for all, according to Health Minister Dr Zweli Mkhize who introduced the National Health Insurance (NHI) Bill to parliament on Thursday.
While Mkhize says the introduction of the Bill will be followed by "a number of steps and engagements including public consultation" he confirmed that South African health will be governed by the NHI within the next seven years.
The main function of the Bill is to establish the NHI Fund which will purchase all core health services on behalf of all South African citizens and certain categories of foreign nationals.
By 2026, medical aid schemes will only be permitted to provide "complimentary cover", in other words they will be limited to the cover of services not provided by the NHI Fund.
By this time, every citizen, permanent resident, refugee and individuals falling into specific categories of foreign nationals "agreed upon" by the Ministers of Health and Foreign Affairs, will have to be registered at an NHI-accredited primary health care provider which will capture both their demographic and biometric details.
All services will be rendered through these providers which will refer patients to more specialised services. Patients will not be allowed to go directly to specialists.
The NHI Fund will be governed by a board of 11 members and a chief executive officer who will all be appointed for a five-year term by the Health Minister.
'We are one country'
One of the main sources of contention up until this point has been how the NHI will be funded.
"The main source of funding [for the NHI] is appropriations which is from parliament into the Fund and the chief sources of income for the appropriations are general tax revenue, funds that may be shifted from the provincial equitable share and conditional grants into the Fund, a reduction of the medical scheme tax credits over time, the possible consideration of a payroll tax as well as a surcharge on personal income tax," says Department of Health Deputy Director-General for NHI, Dr Anban Pillay.
Commenting on the "sensational angle" by some saying that the NHI is simply not affordable, Mkhize says: "You've got unevenness in a pool that should have been able to service more South Africans or all South Africans, but the way we have managed it, it has actually been a privileged few who have got access to a higher level of health care thus perpetuating inequality and we have to resolve it."
The South African National Aids Council's Mabalane Mfundisi alluded to this unequal pooling of funds noting that of South Africa's total 8.5 percent of GDP spent on health of which 4.4 percent is spent 16 percent of the population in the private sector while the remaining 4.1 percent is used to cover the rest of the population through the public sector.
"South Africans must face up to the fact that we are in one country, [we need] one health system, and therefore we need to share the resources and that's really what the NHI is all about," said Mkhize.
Mfundisi welcomes the Bill but noted the 12-year delay preceding its introduction.
He says that the public consultation process should be meaningful but "speedy".
"Civil society appeals to parliament that the process is not delayed to satisfy private sector lobbyists… We want NHI now."