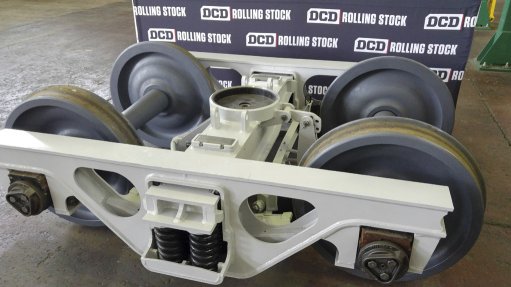 DCD ROLLING STOCK The company has moved away from the traditional casting-based bogie construction and designed its own fabricated bogies using hot rolled steel
Having become the first rolling stock company in the southern hemisphere to pioneer its own fabricated lightweight, cost-competitive locomotive bogie, South Africa-based locomotives company DCD Rolling Stock is extending its technology to wagon and passenger coach bogies aimed at the global market.

According to DCD Rolling Stock GM Gary Steinmetz, the company has moved away from the traditional casting-based bogie construction and designed its own fabricated bogies using hot rolled steel.
He notes that this has made the locomotives particularly suitable for many markets in Africa, such as Tanzania, Kenya, the Democratic Republic of Congo and Nigeria, where rail operators are restricted to lighter axle loads.
"The weight reduction in the fabricated design is mainly achieved using exactly the right steel thickness required to deliver the necessary strength. When pouring a casting, this uniform and specific thickness is difficult to achieve; the result is usually an overengineered, heavier product," Steinmetz says.
The thickness of the steel depends on the load calculations, which include the design analysis to determine the simulated stress within components. The steel thickness is then adjusted accordingly and tests are run to assure safety factors and the balance of stresses and durability for rail application.
"Extensive work that usually went into machining a bogie casting is now directed towards cutting and welding, an activity that DCD Rolling Stock, with its extensive plasma-cutting and computer numerically controlled infrastructure, is well equipped to conduct," he adds.
The company developed technology to eliminate the requirement for stress relieving and machining after the fabrication of the frame of the bogie.
DCD Rolling Stock has supplied its products to, amongst others, State-owned companies Transnet Freight Rail and the Passenger Rail Agency of South Africa; rail service provider Grindrod Rail, which involves manufacturing and servicing; and commuter transport and locomotives engineering company Commuter Transport & Locomotive Engineering.
DCD Rolling Stock also supplies products to industrial companies involved in mining, steel manufacturing, energy and agriculture, such as products for bulk storage and silos.
"For many decades, we have fine-tuned our capacity in designing and constructing locomotives, wagons and tank wagons, as well as passenger cars, out of mild steel and stainless steel," Steinmetz says.
With these fabricated bogie designs now part of the company's intellectual property, DCD can make a complete offering available to customers without having to rely on third-party designs, which might increase costs.
Steinmetz highlights that the efficiency of DCD's building methods have now established a base price that is globally competitive, verified by comparing product prices of items delivered in South Africa, excluding the freight costs and duties.
"Our fabricated bogie is now more cost effective than imported products. In addition to this benefit, we are also contributing to job creation, mainly through the extensive cutting and welding involved," he says.
Steinmetz adds that the impact of the lighter bogie on the carrying capacity of wagons in a mining or industrial environment is substantial, as it allows for greater efficiencies when bulk commodities are transported over long distances.
"With the limits to the axle loads that interface with the rail, it is vital to conserve as much weight allocation as possible for the load, rather than the bogies, which can take up as much as 40 t out of a weight limit of 180 t for a locomotive. Lighter components also mean that moving empty wagons then requires less energy consumption," he says.
Meanwhile, in the passenger coach environment, the stop-start nature of the transport cycle could prove to be less of a drawback as a result of the positive impact of the reduced weight of the bogie, as this ensures significant energy savings.
Steinmetz adds that, in many African and Middle Eastern countries, the level of energy consumption is increased by the operation of relatively old rolling stock, most often designed between 1960 and 1990, that contribute about 40 t to the weight of each coach. Lightweight coaches fitted with the lighter, fabricated bogies will impact directly on the energy required, which is often a rising cost in rail operations.
"Despite the subdued market conditions, such as lower commodity prices, which, in turn, affect the profitability of mining projects, we expect considerable interest in our new offerings from the rail sector in Africa and outside the continent. The inclusion of our own fabricated bogie design now gives us a 'package' that will be hard to beat on quality and price," concludes Steinmetz.