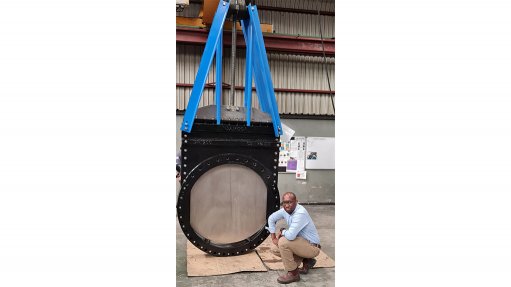 TUMI TSEHLO The larger than normal valve manufactured for the desalinisation plant would generally be used in the mining sector
A mono-flanged large-bore Insamcor 1200 valve has been manufactured and delivered to Erongo desalination plant in Swakopmund, Namibia, by South African fluid technology manufacturer Dynamic Fluid Control (DFC) to allow greater volumes of sea water intake.
"The type and size of valve would commonly be used in the mining sector," says DFC CEO Tumi Tsehlo.
The valve, which will be commissioned this month, was ordered by water technology company Nafasi water.
An electric actuator, supplied by equipment supplier Auma, will be used on the valve, which Tsehlo says offers full control of the water intake. This also includes being able to monitor the valve from the control room in terms of opening and closing it.
The valve can handle a flow capacity of about 2 000 ℓ/sec, with a nominal pressure rating of PN10.
The valve was locally manufactured at DFC's premises in Benoni, Gauteng, over a five-week production period that ended last month.
All components for the 1200 Insamcor valve were sourced from local suppliers and 13 DFC staff members worked on its manufacturing.
Tech Advantage
The valve forms part of the DFC SKG large-bore range and its benefits include the option to be fitted with pneumatic, hydraulic or electric actuation.
With the SKG valve design being one of DFC's most requested products, the company responded to the market need for larger sizes, and research and development on larger sizes of up to 1 200 mm was initiated in 2018.
The larger Insamcor 1200 valve fully encloses all moving parts for protection against heavy slurry applications and human injury.
The lightweight cover plate is easily removeable to allow for the addition of accessories, such as limit and proxy switches, while indicator brackets allow for visual inspection on the status of the valve position from any angle.
The valve is also supplied with a lock-out mechanism that keeps machine & equipment parts secure when maintenance is required.
Lifting supports to easily manoeuvre the Insamcor 1200 valve are standard, while a replaceable wiper blade prevents outside contamination and maintains internal lubrication on the blade.
Tsehlo concludes that the Insamcor 1200 valve is the first and largest mono-flanged valve manufactured and sold in Africa, as the previously manufactured 1 200 mm valves were imported from Russia.